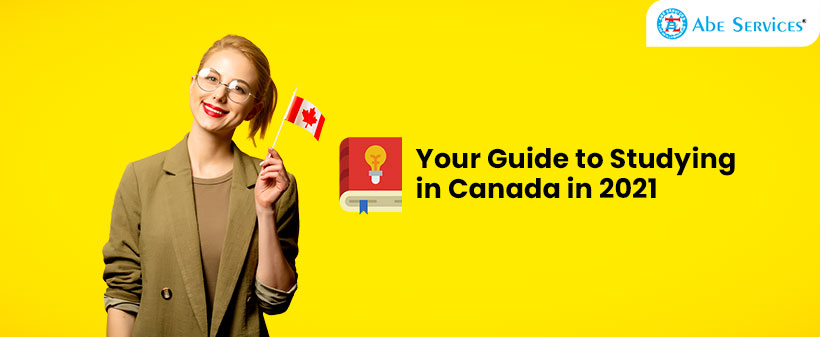 A 2021 Guide to Study in Canada
Canada is truly a land of endless possibilities. Each year more than 500, 000 international students come to Canada to pursue their higher education. The reason for this in-flow of students from around the world is manifold. Canada is home to 21 of the world's top 500 universities. Needless to say that the quality of education in Canada is top-notch. Canadian degrees and qualifications are accepted globally. If you are someone who is planning to do your studies in Canada, you have come to the right place. 
Here is a comprehensive guide for anyone who wishes to study in Canada in 2021. 
Understanding the requirements 
Before applying to Canadian colleges and universities, you need to have a clear understanding of the entry requirements. The colleges and universities are governed by provincial governments and subject to their respective laws and guidelines. Get in touch with the expert education counsellors at Abe Services to know the requirements to study in Canada in 2021.
Choosing the right college or university
This might be the most important question that you need to find an answer to. Before going into the details of how to choose the right institution, let us look at the difference between a college and a university in Canada. 
| | |
| --- | --- |
| University  | Colleges  |
| Mostly offers undergraduate and postgraduate degree programs. Some universities also offer PhD programs to international students.  | Offers certificate, diploma, degree & postgraduate diploma programs |
| Provides a research-based approach and teaches everything related to the subject.  | Preparing the students for the job market. Focused on developing some particular skills.  |
| Higher tuition fee  | Comparatively lower tuition fee  |
| If you successfully complete a 4-year Bachelors program or a 2 year Master's program in Canada, you can apply for up to 3 years of work permit.  | The work permit is the same for colleges as well. If you complete a one year course, you will be eligible for a 1-year work permit. if you complete a 2 year or 3-year course, you can apply for up to 3 years of work permit.  |
Before you select a college or a university, ensure that the institute you choose has a Designated Learning Institute status and that it provides courses eligible for a Post Graduation Work Permit. Note that only Designated Learning Institutes are approved by the provincial or territorial government to host international students.  You can check both of these factors here. 
Taking the language proficiency test 
An international student must undertake a language proficiency test in English to enter Canada. The referred test in English is IELTS, some other tests are also available but the most common and safe bet for International students today is IELTS. If you need help with training for your IELTS exam, Abe Services have a team of expert trainers to help you get the required score. Do note that under the SDS category (Student Direct Stream) only IELTS is accepted. The minimum required score to be eligible under the SDS category is an overall score of 6.0 with no bands less than 6.0. All other English language proficiency tests like PTE or TOEFL will only be accepted under the Non-SDS category.
Applying to Universities or Colleges 
Apply to the colleges or universities that you have short-listed from the list of Designated Learning Institutes. Do this carefully and ensure that the same is backed with proper documentation. Our expert documentation team can help you prepare the documents and make the application to your preferred college or university. Most colleges do not offer Conditional Offer Letters so ensure that all your documents are in place including the English language proficiency scorecard, individual mark list along with the provisional degree certificate, etc.
Applying for the Study Permit 
After you get the Letter of Acceptance from the college or university, you need to apply for a Study Permit along with other documents. There are some additional steps involved due to the pandemic as there are some travel restrictions in place. The Government of Canada has announced that studies completed outside of Canada until December 31, 2021, will count towards the Post Graduate Work Permit. Even if your classes are scheduled to begin online students can choose to travel to Canada after obtaining the Study Permit. To know more about the details of the process involved to apply for the Study Permit under the Student Direct Stream, do get in touch with our student counsellor for a free counselling session. 
Travelling to Canada
Students are now required to secure a Covid-19 negative certificate within 72 hours of the departure date. As per the recent travel updates introduced by the Canadian Government, international students travelling to Canada will have to undertake a Covid-19 molecular test upon arrival at the airport and then move to a government authorised hotel for a 3-day quarantine period and await the test results. The cost will have to be borne by the student and the same is expected to be up to CAD 2000. Travellers can book their government-approved hotel by visiting the link here.
 It is to be noted that even if you get a negative certificate, you are required to quarantine yourself for an additional 11 at the place of your choice. Students are encouraged to get in touch with their respective institutions and obtain a Travel Support Letter detailing the place of stay, pick-up facility from the airport and support in relation to effectively managing their quarantine period.
ArriveCan Application: This official application of the Canadian Government was recently made available to international travellers. Travellers to the country including international students are required to submit the following details via the ArriveCan application prior to their departure date:
Your contact information including your Name, Email ID, Date of Birth, Phone Number

Travel details including your date of arrival, flight number, the purpose of your travel, and any symptoms that you may be experiencing.

In relation to your quarantine plans, you'll be asked to declare whether you have a place to stay for the 14 day period and the address of the place. If at your place of stay, there are people at increased risk from Covid-19 like people who are above the age of 65, have underlying medical conditions or have compromised immune systems, the same will have to be informed beforehand.

After you arrive in Canada, you'll get a push notification on the application on the second day of your quarantine to confirm your arrival at your place of isolation and to start your daily reporting.
Finding jobs in Canada
There are a lot of part-time jobs available. You are eligible to do up to 20 hours of part-time work per week while you study and full-time during holidays. Here are some links to help you with your job search in Canada. 
Look for jobs in Canada – Canada.ca
https://www.jobbank.gc.ca/home
Get in touch with the team at Abe Services if you need help at any stage of your study abroad process. 

Get All Your Concerns Addressed
Interact With Our Expert Student Councellors Today