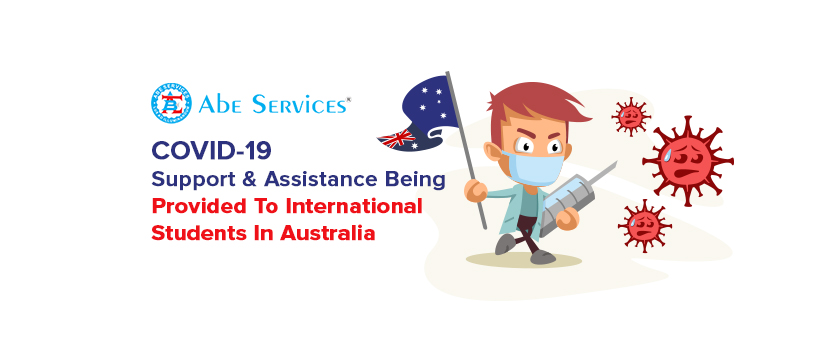 COVID-19: Support & Assistance Being Provided To International Students In Australia
In an unlikely turn of events, we are now battling a global pandemic that has spread its tentacles across the globe. Novel Coronavirus or Covid-19 is a highly contagious disease that can impact the lungs and respiratory system and can even be fatal. It may show similar symptoms to a flu, but it is much more deadlier. With no medication to treat this viral infection yet, the only solution is to isolate and reduce any contact with individuals who are infected or are carrying the disease. As a measure to reduce the contraction of the virus any further, most countries including India have discouraged travelling for any purposes. As we all will agree, at this point of time, the safety and well-being of human beings should be our top priority, and we must do everything we can in order to flatten the curve and minimise the number of cases.
As per a report on Forbes, an exhaustive study conducted by Deep Knowledge Group, shows a list of different countries, with Australia and New Zealand amongst the world's top ten countries for Covid-19 safety. This list has been cumulated based on varied factors like monitoring, detection, disease management, emergency treatment, etc. The analysis shows that some countries have shown high efficiency in combating Covid-19. Australia is ranked the fourth best in the world, while New Zealand is at the 6th place for their adept approach in handling and prevention of the spread of this deadly virus. Apart from this, they are using advanced technologies like AI, robotics, and big data analysis, along with medical treatment. This teamed with sound healthcare management techniques has resulted in making them leaders in fighting and preventing the spread of Covid-19.
If you are a student who has been planning to study abroad, then we are sure that this pandemic is likely a cause of concern for you. While we all wait for the situation to go back to normal, it is crucial to stay updated with the measures that educational institutions are taking in battling this virus while also ensuring that the students are not missing out on their academics. Any reputed institution will make sure that they offer a safe place for both their students and employees and will go to great lengths to minimise the risk of exposure to Covid-19. Here are some of the measures taken by different universities in Australia during this time.
Medical help and facilities
Many universities in Australia have a dedicated body of personnel who are monitoring and observing the updates on Covid-19. They are working closely to outline a plan that will help them offer the best to their students and staff. Many universities like the Australian Catholic University, University of Canberra, etc. have allowed their medical centres at their various campuses to remain open. Telephone consultations have been encouraged in order to avoid any interaction with an infected individual.
Online Teaching
Most institutions have resorted to conducting classes online to prevent the gathering of students in an enclosed place. Learning material and classes will be offered online to ensure that the academic schedule of the students is not disrupted completely. Curtin University, La Trobe University, University of Wollongong and pretty much all other universities are moving their academic curriculum online for the benefit of students and staff alike.
Student support services
Times like this are a testing period for everyone, but the international students might be more prone to challenges like loss of job, scarcity of funds to pay rent, etc. Institutions like University of Canberra are offering options to discuss payment plans for the benefit of students. The Australian government has encouraged rent relief or amendment in the payment of rents, and a similar protocol is followed by most institutions.
Food and shelter
Most on campus facilities are closed adhering to the government laws pertaining to Covid-19. However, many on campus eateries are offering takeaway to avoid clustering of individuals. Apart from this some Universities are also offering food hampers to bail out students who might have experienced a loss of job or similar misfortune due to Covid-19. Some institutions like Edith Cowan University are also offering up to two weeks' free emergency accommodation for eligible students.
Financial assistance
The Australian government has announced that international students who've been living in Australia for over 12 months will be now made eligible to access their superannuation. Apart from this, some institutions like the Australian Catholic University are offering short-term student loans to individuals who may be in dire need of financial assistance. Many universities have also dedicated a generous budget for the aid of students and staff. Flinders University has announced an additional package of $12.5M in support for students. It includes cash payments, a new scholarship program and the waiver of the Student Services and Amenities Fee for this semester. Similarly, Deakin University has announced that it will dedicate up to $25M in hardship support for international students. International students are encouraged to reach out to their respective universities in case they are in need of any financial assistance.
Mental health and well-being
Staying away from home during a time like this can be physically, financially and emotionally challenging. Many international students might find themselves to be on the edge with a constant pining for home and bereft with anxiety pertaining to the wellbeing of their family members. Owing to this, most institutions are offering counselling and virtual therapy especially for international students. Apart from this, widespread information about Covid-19, its symptoms and preventive measures have been showcased to help students stay safe. Along with this, clear and authentic information about OSHC and where it stands in covering the medical cost to treat Covid-19 is stated for the benefit of international students.
In times like this when the whole world battles a pandemic, Australian government and Universities have taken a lot of measures to ensure that their students are safe and well taken care of. With generous budgets allocated especially for this cause, plenty of helplines taking care of the student's need and crucial planning of virtual campuses, one can be assured of staying safe and secure in an environment that allows them to still focus on their dream career.
The universities have taken all the measures to make sure that their organisations are the safe haven that their students and staff deserve. With domestic and global borders closed down, everything has come to a standstill, but don't let this get in the way of you pursuing your dream of studying abroad. You can get in touch with us for more details about how you can make this dream a reality.
Covid-19 State-Wise Helpline Numbers:
New South wales – 1800 022 222
Victoria – 1800 675 398
Tasmania – 1800 671 738
ACT – 1800 022 222
Queensland – 13 43 25 84
South Australia – 1800 020 080
Western Australia – 1800 020 080
Northern Territory – 1800 020 080
For more in-depth information on the assistance being provided to international students, refer to the links given below:
1. Australian Catholic University
9. Queensland University of Technology
11. University of South Australia
15. University of the Sunshine Coast

Get All Your Concerns Addressed
Interact With Our Expert Student Councellors Today