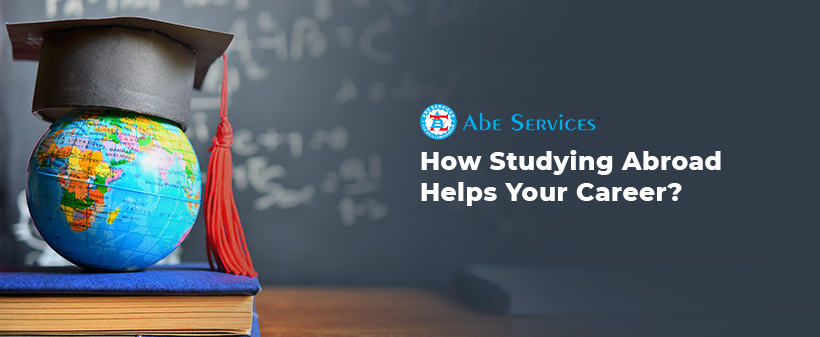 How studying abroad helps your career?
Nowadays more and more students are flying to foreign countries to pursue their higher education. It has been observed that the number of students embarking on an education journey outside their home country has tripled over the past 25 years. If you are trying to understand how studying in a foreign country helps your career, read on, for we have rounded up a few reasons why students prefer to study abroad.
Study in Top-rated Universities in the world
Needless to say that if you choose to study abroad, you will have better prospects to study in a leading educational institution. With sound guidance and assistance you can secure a place in one of the most sought-after universities in the world. Securing a degree from globally recognised universities is going to elevate the value of your resume and help you shape a better career.
Experience a different educational system
The education system and style of teaching in every country is different. By choosing to study abroad, you will get exposure to a superior educational system than the one in your home country. Moreover, you will get a chance to interact with expert academicians who come with many years of experience teaching in globally reputed universities. Many colleges in countries like UK, Australia and New Zealand boast of state-of-the-art research facilities like labs, libraries, etc making them a good choice for aspiring students who wish to pursue a promising career in research.
Improving your language skills
Moving to a foreign land will help you enhance your language skills as most of the destinations like Canada, USA, Australia, etc. are English speaking countries. In lieu of taking up exams like IELTS, you get to better your English language skills that will help you take your career to greater heights.
Also, by studying in a reputed foreign university, you will get a chance to possibly learn many other foreign languages by interacting with fellow students from varied nationalities. This is going to be an added advantage as many companies consider an individual's ability to understand and communicate in multiple languages as a valuable criteria when it comes to job profiles.
Gaining exposure to different cultures
Most international universities are melting pots of diverse nationalities, ideas and perspectives. A healthy insight and understanding of diverse perspectives can be gained whilst studying abroad, which will be a great addition to your personality and resume. You also get the opportunity to travel more and gain exposure to diverse cultures thus, giving you scope to broaden your horizon.
Opportunity to brush up additional skills
Often, studying abroad may come with part time job opportunities that help you enhance your skills beyond the confines of your classroom. One can take up part-time jobs such as teaching that will not only help you financially, but will be a good value addition to your resume. You could also gain essential qualities like presentation skills, team work, time management and interpersonal skills that will surely help you stand out among your colleagues.
Opportunity to work abroad
If you are still wondering about how studying abroad helps your career, this should definitely perk you up as we talk about a chance to pursue a bright career abroad. Some countries offer a stay back period after the course, during which one can get a job of their liking. Studying in renowned institutions will give you an opportunity to explore greater avenues. Better infrastructure, a high salary package and an exposure to work in a world-class environment are just some of the incentives of working abroad.
Enhance your confidence
Studying abroad puts you in touch with different people and ideas. You can enjoy excellent educational facilities and you can have access to the best in the education sector which is sure to help you become more confident. Interaction with fellow students, and a chance to learn more from them is sure to boost your knowledge and self-confidence which will help you achieve greater success in life.
Studying abroad helps you build international connections, which you can use to achieve the success that you have always dreamt of. Pursuing a course abroad with utmost dedication and zeal will help you become an ideal employee that every organisation seeks. We hope that the factors mentioned above has helped you understand why a foreign degree is highly valuable. If you wish to find a promising career in life, you should check your eligibility to go abroad for your higher studies. Having placed thousands of students in some of the best institutions around the world, we at Abe Services continue to inspire students find the best opportunities to study abroad. Get in touch with our team of expert counsellors to know more details.

Get All Your Concerns Addressed
Interact With Our Expert Student Councellors Today