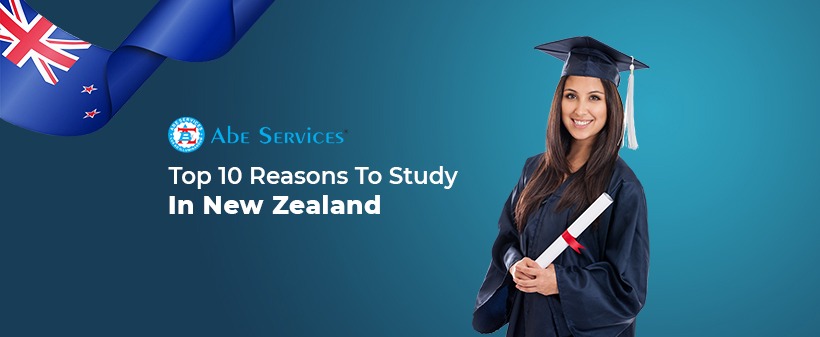 Top 10 Reasons to Study in New Zealand
Deciding to choose the perfect destination can be confusing when you plan to embark on an educational sojourn at a university abroad. If you are looking for a destination that provides access to some of the best and top-ranked Universities across the globe while also offering a modern, safe and wholesome life within a budget, it is highly recommended that you consider studying in New Zealand.
New Zealand is counted amongst the most beautiful and peaceful countries in the world. This island country is located in the South Pacific and is approximately 1,600 kilometres away from its nearest neighbour, Australia. New Zealand having a similar land mass area to that of the United Kingdom consists of two main islands and several outlying ones and is considered to be the last land mass on earth to be discovered. Since the Māori (the nation's first people) arrived about 800 years ago, many different cultures have made New Zealand home, thus making it the youngest country in the world to be settled in and is commonly referred to as the Nation of Migrants. The last 15-20 years have seen considerable migration to New Zealand from Asia, mainly from regions including India, Hong Kong, Taiwan, Singapore, Korea, and Japan. These migrants have greatly contributed to the country's economy.
New Zealand's relaxed pace of life gives you the time to enjoy everything that the vibrant and modern cities in this country have to offer. Most of the cities and towns are relatively small and uncrowded, making the daily commute easier and faster. Native forests, snow-capped mountains, white sandy beaches, picture-perfect lakes and stunning fjords allow one to experience the beauty of nature at its peak.
Although the reasons to choose New Zealand can never be compiled in a single shortlist, we would like to shortlist the top 10 reasons and benefits that international students can make the most of. Thus, here are some of the reasons why you should choose New Zealand as your study destination.
1. Universities that are globally recognised.
Why settle for an average university when you can study in a university that is globally recognised and well appreciated. All universities in New Zealand take pride in being showcased amongst the best in the world. According to QS World University Ranking 2021, all the 8 universities in the county fall under the top 3% globally.  The universities cater to the academic needs of the student in class and are a powerhouse of knowledge. The universities enrol fewer students and have excellent student-teacher ratio (an average of 6.7) which allows you to have a close interaction with the tutors. The institutions have a well-balanced curriculum with equal weightage on practical and theoretical knowledge.
2. Quality of education.
With superior quality education, excellent labs, research centres and educators who are masters in their field of expertise, one can expect nothing but the best in terms of the quality of education in New Zealand. All the programs offered by the public universities in New Zealand go through stringent quality checks. All non-university education programs need to be approved by the New Zealand Qualifications Authority (NZQA), a New Zealand government organization responsible for quality control. The education system here is based on the British education model, and the students have an opportunity to get hands-on experience and knowledge to prepare them to excel anywhere in the world. The degrees you obtain at any university in New Zealand are at par with Universities in Canada, Australia, the USA and the UK. Graduates from Universities in New Zealand enjoy global reputations for technical innovation, research and are in great demand around the world.
3. Diversity in courses
The Universities in New Zealand offer a wide spectrum of courses in diverse fields that will have you spoilt for choice. From engineering to social service, one can pick a course that appeals to them, or a course that take them to greater heights. Excellent quality of education, superior teaching standards and an opportunity to learn from the best will surely give students an edge over the others. Industry-specific knowledge and hands-on experience is often a part and parcel of any course which ensures that the students graduating from these colleges are instantly absorbed by the finest employers across the world.
4. Lower living expenses and affordable educational costs
As mentioned earlier, if you are looking for a destination that is affordable, New Zealand is the perfect place for you. The cost of living is much less compared to many top educational destinations. Fresh food, accommodation and transport are reasonably priced, making life in New Zealand less burdensome as compared to countries like the USA, Canada, the UK, etc.
Educational expenditure for similarly structured programs and qualifications are much lower in universities in New Zealand when compared with destinations such as the USA, the UK, etc. International students also get a chance to choose from a wide range of scholarships available for their studies. Scholarships are provided by the university and the Government and are mainly based on the previous or on-going academic performances of the applicant. Receiving an educational grant will allow you to further reduce your expenses.
5. Student-friendly requirements
You might have come across many challenges and a long list of requirements that you must take care of if you wish to study abroad. This, however, is not the case in New Zealand. The requirements are relatively relaxed. Though New Zealand is quickly becoming a preferred destination for students from across the world, you could still easily get into a university of your choice with the help of the right guidance and preparation. There is no age limitation to study in universities here, and students with average grades can also aspire to get an excellent education in New Zealand.
6. Work while you study
In order to ease your financial situation, you can choose to take up a part-time job while you study in New Zealand. A student can work up to 20 hours a week if they are studying full-time and can work full time during scheduled breaks, holidays, etc, provided your course is worth 120 credits or more. The pay is handsome, and one can choose to work across various industries that may appeal to them. Students pursuing Ph.D. and similar qualifications can also work on campus and gain ample experience while studying.
Working part-time not only helps you make ends meet, but is also a great way to meet new people, build contacts while getting to know more about different cultures and ideas as you broaden your horizons.
7. Stay back period post-education
A lot of countries are constantly changing their stay back policies for students, and many do not bear good news for students. However, New Zealand offers up to three years of a stay back period depending on the course that you are studying. The nature of the course, duration, etc determine the stay back period, but one can be assured that he or she will have an opportunity to look for jobs and to work after finishing their education here.
8. An abundance of Job Opportunities.
According to Universities New Zealand which is the sector voice for all eight universities representing their collective views nationally and internationally, after graduation, 97% of the students get employed and 90% of them get into job profiles that are relevant to the course they've pursued. The latest data (2019) from SEEK Employment Trends shows opportunities were up by 9.4% and the majority of industries recorded an increase. Auckland, Wellington and Christchurch have also recorded high levels of job ads relative to the past five years (2014-2019). While growth in both the economy and jobs is forecast to slow a little after 2021 due to the COVID-19 pandemic, the government still expects the workforce to grow at 1.8% annually – meaning New Zealand will continue to need about 47,000 more workers a year into the near future. The majority of these jobs will be in highly skilled occupations such as those in Engineering and Construction, Finance/ Business, Health and Social Services, ICT and Electronics, Hospitality and Tourism and Science and it is expected that most of these opportunities will have to be filled by people coming to study in New Zealand from overseas; perhaps people like you.
9. Safe and Secure
You can be assured to have a safe and stable life whilst you study in your dream institution in New Zealand. A stable government, low crime rate and friendly people make this country one of the safest countries in the world. New Zealand is listed in the 3rd position of the Global Peace Index. International students are especially taken care of by the strict guidelines formulated under The Code of Practice for The Pastoral Care of International Students. It is mandatory for every education provider to abide by this code. The residents of this country are welcoming and embracing students from across the world who choose to study in Universities located across New Zealand.
10. A wholesome life awaits you!
Last but not the least New Zealand offers the best of both the worlds- city and country life. You can access all the modern amenities and facilities of city life while enjoying the beauty of the countryside. As detailed in the introduction, you are well aware of the natural beauty and stunning landscape that New Zealand is blessed with. The country offers a great opportunity for those who wish to lead a wholesome life and for those who want to experience an exotic life away from home. From serene beaches to a throbbing nightlife, you can expect the best of both the worlds as you reside here. Modern amenities, an opportunity to meet people from across the world, and a chance to travel across the country await you as you study a course that will propel you on a path to a successful career.
We are sure that the benefits of studying in New Zealand as discussed above give you a better idea of what you can expect. Getting a decent score in the English exams and choosing the right course, duration, etc. will help you reach the pinnacle of success that you envision for yourself.
Contact us for a free counselling session to know more about how you can make your dream of studying abroad a reality.

Get All Your Concerns Addressed
Interact With Our Expert Student Councellors Today