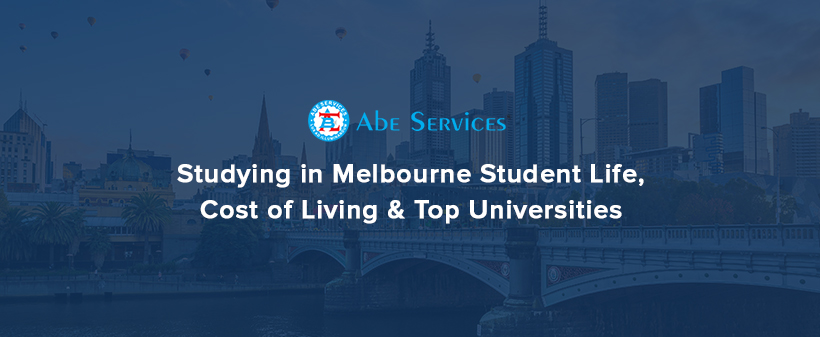 Studying in Melbourne: Student Life, Cost of Living & Top Universities
Victoria is Australia's most progressive and the fastest-growing state. It is one of the best places in the world to live, study and work at.
This region is popular for its beautiful landscapes, cultural diversity, food outlets and sporting events. Offering top-quality education and research facilities across various universities, the state attracts around 227,000 international students each year.
Studying in Melbourne, the capital of Victoria is a one-of-a-kind experience for students as they can enjoy a global lifestyle and make the most of the world-class academic opportunities offered here.
So, let us discuss how it's like to live and study in Melbourne.
Melbourne, Australia's best student city is home to some of the top-ranked universities and research institutions in the world including vocational education and training facilities. Melbourne has been voted as the world's second most livable city in 2019 as per Economist's global liveability survey. It offers best-in-class education and diverse cultural experiences. Melbourne is truly a global city which attracts thousands of students from overseas every year.
Why study in Melbourne?
Here are the top reasons why you should consider studying in Melbourne to get a promising academic experience abroad:
World's most liveable city
Best student city in Australia
Top-quality education
Excellence in research
Exciting job opportunities
Highest employment rates
Sports, art, culture & museums
Festivals & entertainment
World's most liveable city:
Melbourne has been voted amongst the world's best liveable cities for seven consecutive years from 2011 to 2017 scoring highly for education, healthcare, culture, safety, cleanliness, infrastructure, etc. A world-class lifestyle with state-of-the-art facilities assure that living in Melbourne is truly an amazing experience. Melbourne is also a great place to enjoy nature and wildlife as the city is surrounded by pristine beaches, national parks and bushlands.
Best student city in Australia:
Melbourne is voted among the Top Five Cities in the world for students in the QS Best Student Cities Guide. The universities in Melbourne offer outstanding student support services for international students to help them with the process of settling down in the city.
Top-quality education:
Studying in Melbourne will help you start a highly rewarding career as the education attained is globally recognized by employers around the world. With highly experienced faculty who are industry experts and research scholars, these universities offer best-in-class learning opportunities to students. The courses are tailor-made to meet the current industrial needs and also include practical knowledge sessions along with industry exposure.
Excellence in research:
Melbourne is one of the world's leading education and research destinations with the highest number of inner-city research collaborations in the world. Students can make use of the world-class research facilities provided here to excel in their chosen field of study.
Exciting job opportunities:
Melbourne is a leading knowledge destination and offers exciting career opportunities to graduates and postgraduates. The city has a thriving start-up ecosystem and houses the R&D divisions of various multinational companies. Universities in Melbourne provide internships and hands-on training to students while pursuing their education.
Highest employment rates:
Victoria is the second largest employing state, with the majority of jobs located in Melbourne. In the last few years, the employment growth in Victoria has increased by 15.9% which is the highest in Australia. It has been reported that around 69% of employees in Victoria have post-school qualifications with a majority of them holding a Bachelor's degree or higher. The labour market in Victoria shows great progress with employment rate increased by 3.5% or 114,200.
The full-time employment rate has increased by 4.5% i.e 98,500 and part-time employment rate in Victoria had increased by 1.5% or 15,800 in the last year. Also, the unemployment rate in Victoria has decreased by 1% point over the year to 4.5% in January 2019, below the national rate of 5.0%. The youth employment rate in Victoria has increased by 3.1% or 14,900 while the youth unemployment rate had fallen by 2% points over the year to 11.2% in January 2019.
The short-term outlook for the Victorian economy is positive.
According to the Victorian Department of Treasury and Finance forecast, Victoria will witness employment growth of 2.0% in 2019-20, while the unemployment rate is expected to average 5.0% over the period. Over the coming five years until May 2023, employment in Victoria is expected to increase by 8.3% which is well above the national projected growth of 7.1%.
Sports, art, culture & museums:
Often termed as Australia's cultural capital, Melbourne is also famous for its unique art and cultural experiences. Art lovers can enjoy visiting galleries such as the National Gallery of Victoria and the Melbourne Museum. The Australian Centre for the Moving Image, the national museum of film, video games, digital culture and art offer free entry to the public. Some of the other top attractions in Melbourne are Koorie Heritage Trust, The Australian Music Vault, Victoria State Library, Australian Sports Museum, Bendigo Art Gallery, Science works & many more.
Sport is a significant part of Australian culture. Melbourne is also renowned for major sporting events and is regarded as the sporting capital of Australia. The city hosts several world-class sporting events every year – The Australian Open Tennis, The Australian Formula One Grand Prix, Spring Racing Carnival or the Melbourne Cup, Australian Rules Football, Boxing day test match, etc. If you are a sports enthusiast, you can also be part of various local sports clubs and facilities which are common in Melbourne.
Festivals & entertainment:
International students who study in Melbourne can keep themselves entertained with numerous fun activities and events. The city hosts year-round theatre, music, literature, dance, film and art festivals letting you discover more about the local cultures and traditions. The Melbourne International Arts Festival is an annual celebration of arts held in October. Some other interesting events which are hosted in the city are the Melbourne International Film Festival, Melbourne International Jazz Festival, Melbourne International Comedy Festival, Melbourne Fringe, etc. Being a multicultural city, Melbourne is also well-known for its diverse culinary experiences.
Study in Melbourne: Top-Recommended Universities
Some universities to consider in and around Melbourne, Victoria are:
Swinburne University of Technology (CRICOS Code: 00111D)
Swinburne University of Technology has an international reputation for quality research.
Swinburne is among the top 3% of universities worldwide being ranked in the world's top 400 universities as per the 2020 QS World University Rankings. Swinburne is also ranked in the Top 200 for Engineering and Technology by the World University Rankings 2020 by Subject and Top 250 for Physical Science and Top 300 for Computer Science. The Swinburne Faculty of Business and Law achieved accreditation by the Association to Advance Collegiate Schools of Business (AACSB) International, the highest standard of excellence in business education worldwide. Swinburne University of Technology has 3 campuses based in Melbourne, located in Hawthorn, Croydon and Wantirna offering state-of-the-art facilities and a supportive learning environment for students.
Federation University (CRICOS Code: 00103D)
Federation University has been ranked #1 in Victoria for overall employment, median starting salary, student support and teaching scale (QILT, 2018). As per the Employer Satisfaction Survey 2017, January 2018, the graduates from FedUni have been rated the best in Australia for employability, technical and adaptive skills. The university offers over 400 programs – from TAFE (Technical and further education), short courses, to degrees and more. The university campus located in Berwick is about 40km southeast of the Melbourne CBD. The Gippsland campus is located in the town of Churchill which is just two hours from Melbourne. The Mt Helen campus is located 10 kilometres from the city centre of Ballarat and is set on 110 hectares of natural bushland. It is also home to the Ballarat Technology Park, with major employers such as IBM among its tenants.
La Trobe University (CRICOS Code: 00115M) Provider Code 00111D
La Trobe is ranked #52 among the top 100 young universities in the world according to The Young University Rankings 2019 by Times Higher Education. The World University Rankings 2020 placed La Trobe in the top 1.1% of universities worldwide. Apart from these rankings, the university ranks among the top 200 globally in various subjects like arts, humanities, psychology, etc. The La Trobe University campus in Melbourne is located in the north-eastern suburb of Bundoora, which is just 14km from the city centre. Students who opt to study in this campus can get the unique opportunity to interact with award-winning researchers in various specialised subjects. La Trobe Melbourne campus has state-of-the-art facilities including La Trobe Institute of Molecular Science, Centre for Agribioscience, Centre for Sport and Social Impact, etc.
Deakin University (CRICOS Code: 00113B)
Deakin University is a multi-award winning tertiary education provider with a high global reputation. Deakin ranks 211 in the prestigious Academic Ranking of World Universities (ARWU) thus being in the top 1% of universities worldwide. Offering world-class research and teaching facilities, Deakin has grabbed a 5-star rating by the prestigious university ranking organization Quacquarelli Symonds (QS). Deakin University has five campuses accommodating around 60,000 students every year. The Deakin Melbourne campus is located in Burwood which has close proximity to the city's eastern transport hubs. The campus is set in a scenic verdant environment which offers a fresh and positive learning ambiance for students. The Burwood campus which boasts of top-notch facilities has around 26,000 students and 1500 staff members. The Geelong Waterfront campus is located right on the seafront in the heart of Geelong which is just an hour's journey from Melbourne. The university's Geelong Waurn Ponds campus provides world-class education in a stunning rural setting located close to Australia's best beaches.
Earn While Studying in Melbourne: Part-time job opportunities
While you are studying in Melbourne, you can find part-time jobs to help manage your daily expenses. As per the Australian Law, all student visa holders can work part-time for up to 40 hours per fortnight during their studies and can work full-time during their semester breaks. Students pursuing a Masters by research or PhD are eligible to work full-time.
A few popular part-time jobs in Australia for international students are university assistant, waiter, receptionist, retail sales assistant, etc. Students can choose between on-campus and off-campus work opportunities. Before applying for a part-time job you must prepare a formal written application and a resume which is designed specifically for the job role. If you are working in Australia, you will have the right to minimum wage and protections under the law. Many universities and colleges will provide assistance for students to find part-time jobs. You can also find jobs through fellow students, friends or family who are in Australia.
Average living costs while studying in Melbourne
While you are calculating the living expenses in Melbourne, you should include accommodation, utilities, food, transport and extra expenses for fun & leisure. Utilities include electricity, gas, telephone and internet. Transport costs will vary depending on the location of your stay. As an international student, you may be eligible for a 50% discount on the Myki card used for public transport services in Melbourne and many parts of regional Victoria.
The list below gives you an overview of the average living expenses in Australia in Australian Dollars (AUD):
Hostels/Guesthouses – $90 to $150 per week
Shared Rental – $95 to $215 per week
On-campus stay – $110 to $280 per week
Homestay – $235 to $325 per week
Rental – $185 to $440 per week
Groceries/Food – $100 to $200 per week
Gas & Electricity – $10 to $20 per week
Phone & Internet – $10 to $20 per week
Public transport – $15 to $30 per week
Entertainment – $80 to $150 per month
The cost of studying in Australia will depend on the institution, level of study, course selected and the study location.
Study In A Top Rated University In Melbourne – How to get started?
If you wish to take the first step towards studying in Melbourne, we can help you get started right away. Choosing the right course in a reputed university will help you embark on a successful life both personally and professionally. You can speak to our team of experts on education in Australia to know more about the varied courses and educational opportunities that await you. Submit an enquiry or give us a call at 9846810310 for more details.

Get All Your Concerns Addressed
Interact With Our Expert Student Councellors Today