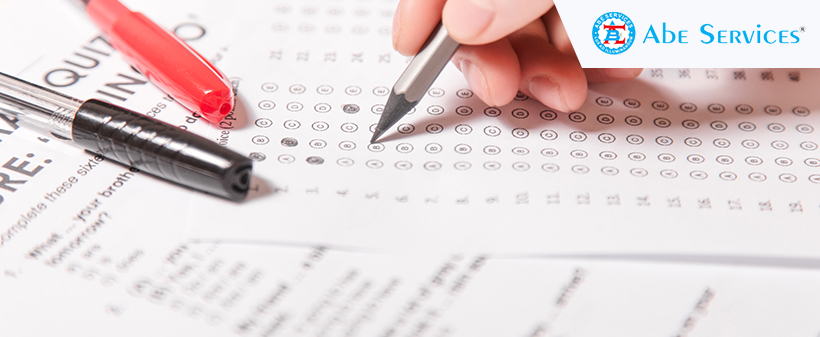 Tips To Improve Your IELTS Score
IELTS stands for International English Language Testing System. In a nutshell, IELTS grades your skills – writing, reading, speaking and listening – in the English language. Most often it involves many hours of preparation which often includes extensive reading. However, you need to read up more than just lengthy IELTS guides and review books. Here are some important tips to improve your IELTS score:


#1: Improve your vocabulary
Learning English is all about using words in the right context as precisely as possible. You need to read frequently to get good at this. The more words you expose yourself to, the better will be your vocabulary. When you read, underline or highlight the words you are not familiar with a marker. Try to understand the contextual meaning of these words. You can also look at the dictionary to understand the meaning more clearly.
Reading English newspaper and listening to English news will expose you to a number of new words. After learning a new word, you should practice using it. When you use new words often, you will be able to speak more fluently. According to research studies, you will have to repeat the new word 10 to 20 times to make it a part of your day-to-day speech.
Additional tips:
Note down expressions that may be used in several academic contexts
Record phrases instead of individual words
Use a dictionary to understand proper word arrangement
Do not waste too much time learning specialized words
Practice talking and writing in English
Read newspapers, news websites, and magazines to learn more
#2: Read as much as you can
Always keep an English-English dictionary handy so that you can refer to meanings when you come across new words. This helps you to avoid translating back to your mother tongue.
Additional Tips:
Practice scanning and skimming through reading material to quickly get a general picture of any text
You must be very clear as to what you have to do to complete each task
It is important to go through all theinstructions very carefully
Make use of the work to gather further clues with regards to the content as well as the organization of the text
Keep in mind the fact that the explanation with regards tothe key vocabulary is often available in the text
Do not refer to a dictionary until you have completed the task and verified your answers.
It is also a good idea to read a couple of English newspapers and watchEnglish news every morning
#3: Improve your writing skills
When learning English lessons, always record words in a consistent manner. Write down the meaning of the word and a sentence written using the word on a card so that you can refer to it later. Further, saying the word resoundingly initiates your sound-related memory. It is also helpful in relating the word to those words that you definitely know.
Additional tips:
Timing your writing helps to improve your speed
Your answers should never be below the prescribed minimum length
Task 2 has more marks and needs more time to complete; so, plan accordingly
For Task 1
You have to describe the information and not the diagram (for example, you are not required to clearly mention what horizontal and vertical axes of the graph represent)
Learn to choose the important features and figures that provide support to your answers
You can go through diagrams, charts, and graphs available in the newspapers and/or on the Internet for the purpose of practicing analysis (watch how diagrams are made use of on TV programs)
For Task 2
Understand the question carefully
Have a paragraph plan in mind before you start to write
Make sure that you have addressed all parts of the question
Always keep apart some time for editing your writing
Be cautious of the mistakesyou often commit and check them out
#4: Practice pronunciation and fluency
The speaking skill test section has three parts. They include structured, free interviews and a short talk. You will have to talk on 2 or 3 concerns related to familiar topics in about 4 to 5 minutes.
You should also be prepared to give a 2-minute talk in the brief talk section. The time you get to prepare for the discussion will be about a minute. This section will be completed in about 3 to 4 minutes.
Additional tips:
For Fluency
You should practice speaking for significantly longer periods of time
Talk aloud so that you can hear yourself saying the words
Record your talks on various topics as much as you can
For Pronunciation
Listen to talks in English on radio, TV, and films as much as you can
Repeat phrases you hear in recordings so as to help you say word groups and use intonation appropriately
Record and listen to your own speaking
Practice consistently. When you use a new word with the correct pronunciation, it gets imprinted in your mind.


#5: Practice listening skills
You can listen to the English news every morning, prepare a script as you listen to the news, and analyze it later. Do this on a daily basis to improve your listening skills.
Additional tips
Make use of the time you get for preparation to think about the content of the task and focus
It is important to make sure that you know exactly what you should do for each task by thoroughly checking the instructions
Check your answers, listen once again, and try to sort out if there are any problems
You must remember that you get to hear the recording only once
You should not pause the CD you are listening to when practicing
Listen once again and highlight useful expressions
In conclusion, the tips mentioned above will equip you to prepare well for the IELTS exam and improve your score. However, your success is entirely dependent on practice and commitment. These two traits work in tandem and enable you to achieve the IELTS score that you desire.
If you are planning to enrol for IELTS training, then we offer free training at our state-of-the-art training facilities in Kochi and Kottayam. Get trained by expert professionals and boost your chances of studying in top rated universities around the globe.  Hope you found the article on "Tips to improve your IELTS score" helpful. Feel free to share your thoughts in the comment section below.



Get All Your Concerns Addressed
Interact With Our Expert Student Councellors Today