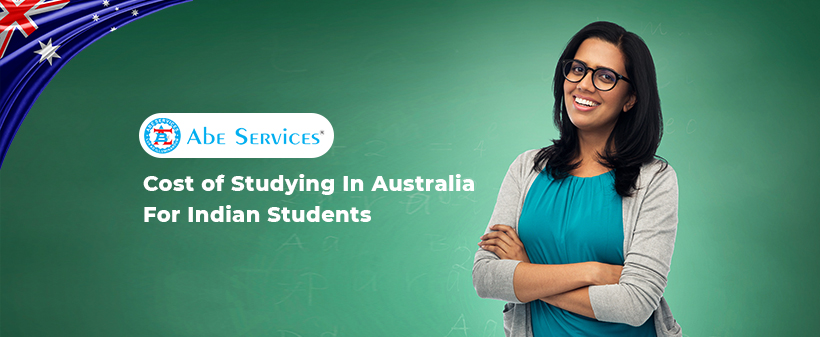 What is the Cost of Studying in Australia for Indian students?
Curious to know about the cost of studying in Australia? Here's all that you need to know.
Foreign education can seem like a massive financial commitment, but with careful planning, you can pursue your dream of studying abroad within your budget. If you wish to pursue your higher education in Australia, the first step is to check your financial capability. As an international student, you will have to bear various types of expenses like tuition fees, cost of food & accommodation, health insurance, visa processing fee, taxes and the like. The tuition fee for studying in Australia varies according to the level of study, course specialization and the university you choose.
Students can avail attractive scholarships offered by Australian universities and the government to get a reduction in tuition fee and accommodation costs.
Below is a breakdown of the cost of studying in Australia to help you plan your budget.
Cost for Australian Student Visa & Health Cover
If you have made up your mind to study in Australia which is one of the best student destinations in the world, then the first step is to apply to universities, receive the confirmation of enrolment and then apply for your student visa.
The fee for the student visa (Subclass 500) is currently $620 AUD. While applying for a student visa, you also have to take a health insurance coverage known as Overseas Students Health Cover (OSHC) for yourself and make sure that it is valid during the whole duration of your stay. You can either apply for this through your university or arrange a medical insurance cover from any government authorized medical insurance provider. The average cost of OSHC for a single student for a period of 12 months is $500 AUD (indicative).
Abe Services can guide you to find a suitable health cover for you.
Tuition Cost for Studying in Australia
The course fee or the tuition fee for studying in Australia is mainly dependent on factors like the level of study, area of specialization, the university you are choosing etc. For example, courses on medicine, veterinary science and engineering are usually on the higher side while other specializations like arts, humanities, education, etc. are comparatively lesser expensive. Also, if you are applying for a PG course, then the tuition fee can be higher than that of UG level.
Universities in Australia have either a Semester mode of teaching or a Trimester mode of teaching. A semester mode will have 2 terms in an academic year while a trimester mode will have 3 terms in an academic year and the annual fee for the program will be divided into the terms. Prior to submitting the visa applications, international students will have to provide the university with the fee of the first term. Thus it is better to check with the university to know the payment interval. One can also apply for. One can also apply for University level fee discount scholarships which are provided to eligible students based on their previous merits which will help you relax your financial burden.
The average yearly tuition fee for different levels of education is listed below:
School – $7,800 to $30,000
English language studies – $350-450 weekly (varies as per course duration)
Vocational Education and Training (Certificates I to IV, Diploma and Advanced Diploma) – $4,000 to $22,000
Undergraduate Bachelor's Degree – $15,000 – $35,000
Postgraduate Master's Degree – $20,000 to $42,000
Doctoral Degree – $20,000 to $42,000
*Please note all figures are indicative
Accommodation Cost for Students in Australia
Students can either choose on-campus accommodation or off-campus facilities in Australia. Most of the universities in Australia offer on-campus residential facilities which include food. However, a majority of the students in Australia opt to stay off-campus in apartments, homestays or hostels. Off-campus accommodation is more economical as compared to on-campus accommodation provided by the universities. You can share apartments with other students from India or reside in a homestay run by an Australian family. The rental costs will vary according to the location and type of facility. Listed below is the average cost (in Australian Dollars) of different types of student accommodations in Australia.
Hostels and Guesthouses – $90 to $150 per week
Shared Rental – $95 to $215 per week
On-campus – $110 to $280 per week
Homestay – $235 to $325 per week
Rental – $185 to $440 per week
Boarding schools – $11,000 to $22,000 a year
Source: https://www.studyinaustralia.gov.au/english/live-in-australia/living-costs
Living Expenses for Students in Australia
Before flying out of your home country, you must be aware of various other expenses apart from the living costs, course fee and the cost of accommodation. If you are opting to stay in a shared apartment or guesthouse, then you may have to buy your groceries or pay extra for your food. The average price of a meal at an inexpensive restaurant is $18 while a three-course meal can cost $40 each. While calculating your budget, include miscellaneous expenses like food, groceries, internet, phone, electricity, gas, etc. You may also consider additional expenses like shopping and entertainment. For a student, the average living expenses in Australia amount to $21,041 per annum. For a partner accompanying you, the living expenses can be around $7,362 AUD pa and for a child, it is estimated to be around $ 3,152 AUD pa.
Here is a breakdown of the common living expenses:
Groceries and eating out – $140 to $280 per week
Gas, electricity – $10 to $20 per week
Phone and Internet – $15 to $30 per week
Public transport – $30 to $60 per week
Car (after purchase) – $150 to $260 per week
Entertainment – $80 to $150 per week
Transportation costs for students in Australia
Transportation costs will come into picture especially if you are staying outside the university campus. Public transport services are highly reliable and cost-effective in Australia. Students can make use of the different modes of public transport available such as bus, train, tram, ferry etc. to move around. The cost of public transport varies depending on where you live and the type of transportation you are availing. On an average, the public transport cost for a student can range from $30 to $70 per month. Many Australian territories like ACT (Australian Capital Territory), QLD (Queensland), SA (South Australia), NT (Northern Territory), WA (Western Australia), etc. offer transport charge concessions for international students. A weekly or monthly pass can be obtained for your regular bus or train rides. You also have the option of renting bicycles on a daily or monthly basis. Some large universities will also have their internal transportation services for students free of charge.
Tax payment for students
Overseas students coming to Australia who are enrolled in a course that is more than 6 months are generally treated as Australian residents for tax purposes. If you are planning to work part-time while studying in Australia, then you need to acquire a Tax File Number (TFN). You will have to pay taxes once you start earning through part-time jobs. Apply for a TFN number before you open a bank account in Australia. As an international student, you can apply for TFN online with a valid passport and relevant travel documents.
Manage your expenses through Scholarships
It is recommended that you apply early for all Australian scholarships and fellowships which can help you cut down your course fee and accommodation cost up to a great extent. All UG & PG students can check with the Australian universities as many offer scholarships at both levels. International students can get up to 75% reduction in the course fee and free accommodation for a period of up to 1 year through university-based scholarships. If you want to check your eligibility for scholarships, our education counsellor can assist you online.
Listed below are a few popular government scholarships available in Australia:
Australia Awards – International scholarships and fellowships funded by the Australian government that cover full tuition fees, travel expenses, and part of the monthly living costs, among others. Australian nationals and students from other eligible countries like the Americas, the Caribbean, Europe, the Middle East, the Pacific area and Asia can apply for this.
Destination Australia Scholarship – This is a new scholarship program which was recently announced by the Australian Government. Destination Australia Scholarship aims to support both Australian and international students to study in regional Australia. Over 1000 scholarships worth $15,000 will be offered every year to support the study and living expenses of students. This scholarship applies to those who are pursuing Certificate IV to Doctorate level qualification at a regional campus of an eligible tertiary education provider.
APEC Women in Research Fellowship Program – Provides financial support for female researchers from developing APEC countries.
We also suggest that you look for part-time job opportunities in Australia so that you can earn money for your daily expenses. While calculating your budget for studying in Australia, you also have to consider the exchange rate variations. Now that you have an idea of how much it might cost to study in Australia you can now start applying to some of the top universities in this country.
We wish you all the best. For any assistance, please feel free to get in touch with us. We, at Abe Services, are here to help you at every step of your journey towards fulfilling your dream of studying abroad. Our team of experts offer guidance right from English competitive exams, selection of course and university and also provide assistance in securing an education loan. For more details on our services, call: 9846810310.

Get All Your Concerns Addressed
Interact With Our Expert Student Councellors Today