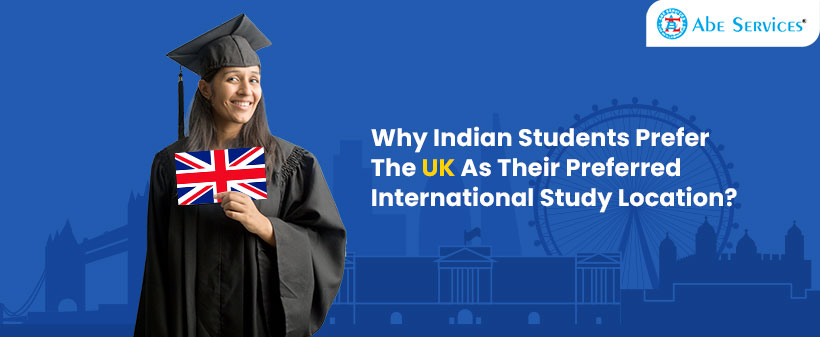 Why Indian Students Prefer the UK as their Preferred International Study Location?
The UK has been one of the most popular education hubs in the world. Some of the universities in the UK have their roots in the 12 and 13th centuries.  Many world leaders, including Mahatma Gandhi and Jawaharlal Nehru had their education from some of the prestigious institutions in the UK. It is no wonder that many Indian students dream about education from the UK. In the last 10 years about 2, 70,000 Indian students benefited from the UK's high- quality education system. Let us look into the other reasons why Indian students choose to study in the UK more than any other country in the world.

Internationally Recognized universities and qualifications
Having a degree from a UK university or college looks great on the resume. Being home to some of the oldest and the best universities in the world, the UK has a reputation for the highest quality education. Four out of ten top universities in the world are from the UK. 
Here are some of the top universities in the UK 
| | | |
| --- | --- | --- |
| University Name  | Global Rankings 2021  | Notable Alumni  |
| Oxford University  | QS Ranking- 5 | Two of the Prime Ministers of Independent India, Indra Gandhi and Dr Manmohan Singh studied here.  |
| University of Cambridge | QS Ranking- 7 | Jawaharlal Nehru and Nobel Laureate in Economics Dr Amrithya Sen had their education from Cambridge.  |
| Imperial College London  | QS Ranking- 8 | Rajeev Gandhi, H.G Wells  |
| University College London (UCL) | QS Ranking- 10 | Mahatma Gandhi, V.K Krishna Menon and Christopher Nolan  |
| Queens Mary University of London   | QS Ranking- 114 | |
| Queen's University, Belfast  | QS Ranking- 209 | Winston Churchill, Bill Clinton, Tony Blair  |
| Anglia Ruskin University | Times Ranking- 301 | Syd Barrett |
The education system in the UK focuses more on practicality than textbook learning. 
Multicultural Environment 
The UK is multicultural with people from different parts of the world. There were about 2,532,385  International students in the UK as of 2020. It is the second most popular study location for international students worldwide just behind the United States. 
You get to interact with people from different parts of the world and experience their culture while you study in the UK. This will broaden your understanding and perspectives. 
The UK Advantage 
There are a lot of advantages to studying in the UK. To begin with, you get to choose from a wide variety of courses. There are about 50,000 courses available in different universities and colleges in the UK.
The duration of a Master's course in the UK is one year, compared to the usual 2 years in other countries. If you choose to do a PhD along with your Master's, this will save you another year. The shorter duration of the courses in the UK helps reduce the accommodation and tuition costs. 
Work While You Study 
An international student in the UK is allowed to work 20 hours a week. This allows students to secure a part-time job and earn some money while studying.

Some universities also help students get an internship as part of the course. This will give you a competitive advantage when you graduate. 
Work Permit after you graduate 
You get up to 2 years of post-study work permit after you graduate. This will help you gain some valuable industry experience. As this is an open work permit, students may choose to opt for a job of their liking. However, it is advisable for students to secure a professional job based on their previous course of study in order to be an ideal candidate to secure the Tier 2 Skilled Worker Visa. The Government of the UK has now restructured the entire Skilled Worker Route after their exit from the European Union. The process is now much more straightforward. To know about the entire process, do connect with our experienced student counsellors. 
Health Benefits 
If enrolled for a full-time course, Indian students are eligible to get free medical treatment from the NHS. If you are staying with your spouse, they will also get access to health benefits. 
Scholarships 
There are some good scholarships available for international students from India. Get in touch with the education counsellors at Abe Services to learn more about the scholarships and to check your eligibility.  
Explore Europe 
The UK is well connected to other European countries. You can visit and explore countries like France, Italy, Netherlands and Belgium. By the end of your studies, you will have some amazing stories and experiences to share. 
If you need help at any stage of your international education journey, from personalized education counselling sessions, identifying the right university, facilitating student loans and offering English language training to successful processing of student visas, we provide an all-inclusive service package for students aspiring to study abroad.  Get in touch with us today. 

Get All Your Concerns Addressed
Interact With Our Expert Student Councellors Today