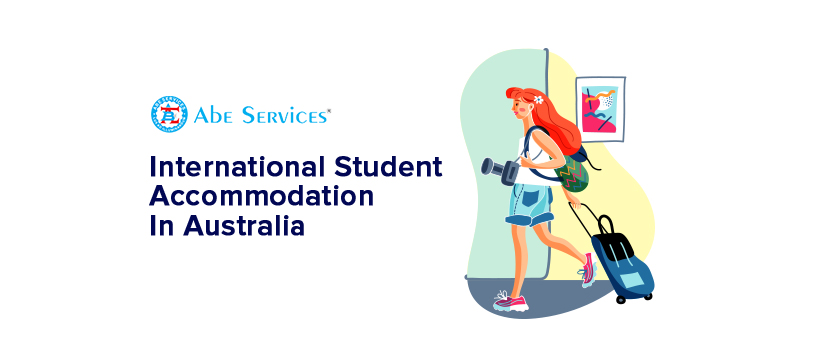 International Student Accommodation in Australia
Being one of the best academic and student-friendly destinations in the world, Australia offers plenty of accommodation facilities for international students.
Various types of accommodation options are available for students in Australia such as university accommodation, hostels, homestays, rental apartments, guesthouses, etc. According to your personal choices and budget, you can choose a suitable accommodation facility within or outside the campus.
How to find student accommodation in Australia?
Once you have secured the entry ticket to an Australian university, the next step is to select and arrange a good accommodation. As an international student, you may be worried about the safety and reliability aspects. Most of the education providers in Australia offer student support services to help students find the right accommodation facility. So it is always better to contact your university or education consultancy to find the best accommodation in Australia and make arrangements well in advance.
Cost of Accommodation in Australia
The cost of accommodation will mainly depend upon factors like the type of accommodation, location – whether urban or rural, number of people sharing room or house, etc. On-campus accommodation usually needs advance application while rental apartments and guesthouses will be easily available. Although on-campus accommodation is available a majority of the students in Australia opt to stay off-campus in homestays, hostels or rental apartments. The accommodation costs also vary between the different states and territories within Australia.
Types of accommodation
Let us now discuss the different types of student accommodations available in Australia.
On-campus stay facilities to reside offer a convenient lifestyle for students within the university campus. Most of the Australian universities provide the best quality stay and food for students. If you like to live in a secure environment within or close to the campus, on-campus accommodation would be the ideal choice. If you are opting for on-campus accommodation, it is better to book well in advance because the vacancies will be limited and they usually get filled fast. On-campus stay can be categorized as residential colleges, halls of residence & apartments.
Residential Colleges & Halls of Residence:
Residential colleges offer a range of facilities like accommodation, meals, furnished bedroom, library access, Wi-Fi, cleaning, etc. As residential colleges provide an all-inclusive living facility, they are usually more expensive when compared to other types. Although the cost varies according to the institution, a residential college accommodation with utilities can cost you around AUD $110 and AUD $280 weekly.
Halls of residence is another type of accommodation which are either owned or affiliated by the colleges/universities. These offer self-catering facilities for students depending upon their preference and may be located inside or outside the campus. Students can opt to stay in a single bedroom with shared bathrooms, kitchen and recreation spaces. Almost all major colleges and universities in Australia will have Halls of Residence catering to international students.
Some universities in Australia also offer apartment facilities for students. These apartments are ideal choices for those wishing to go for a self-catered living facility near the campus premises. While this option offers a high level of security, it also gives you more freedom to follow a lifestyle that you are comfortable with. As the demand for housing near the university campuses is always high, you must confirm your accommodation as early as possible. Ideally, a student should arrive 2 or 3 weeks before the classes begin to have enough time to settle down in the new place.
It has been observed that 90-100% of students in Australia choose to live off-campus as it gives them more independence. Many Australian families allow international students to stay with them by offering homestay services. It gives a wonderful opportunity for students to interact with the natives and understand more about their lifestyle. Moreover, for students who are staying away from their home for the first time, homestays ensure a comfortable and homely environment as compared to hostels and guesthouses. You can choose shared rooms or single rooms as per your comfort. The cost may vary according to the location and room sharing but on an average, it ranges from $235 to $325 per week. In most of the cases, food will be included in this cost but you will also have an option to opt-out. Contact your university helpdesk to get the list of approved homestays available for students.
Hostels and guesthouses are two other types of accommodation available for students in Australia. If you are looking for a lower budget stay, these are the ideal options for you. You can get shared rooms which may cost you around $90 to $150 AUD per week. In these accommodation facilities, the kitchen and bathrooms will be available on a sharing basis. All tenants will be allowed to use the kitchen and cook their food individually. A large number of students prefer to stay in hostels or guesthouses as it provides a great opportunity for social interaction and the cost is lesser when compared to other types of stays.
Rental properties are also available for students who prefer to stay in groups. If you have a group of friends or colleagues who are willing to share the living costs, you can rent a private house or an apartment in Australia. Rental properties may not be fully furnished so you may have to buy the necessary furniture and household items before moving in. Rental accommodations usually cost around A$100-A$400 per week, and shared rental accommodations cost around A$70-A$250 per week. For rental accommodations, you will have to pay a security deposit in advance which will be usually one month's rent amount.
We hope that the above information was helpful to you. With more than 12 years of experience in guiding students to fulfill their dream of studying in Australia, we can guide you through the process of finding a reliable accommodation in Australia. To know more about accommodation scholarships in Australia, please get in touch with us.

Get All Your Concerns Addressed
Interact With Our Expert Student Councellors Today