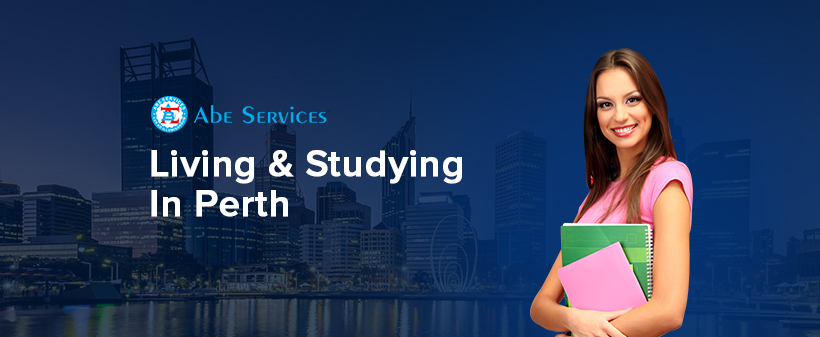 Living and Studying in Perth: A Student Guide
With a relaxed lifestyle, warm sunny climate and world-class academic opportunities, Perth is not only a great city to study at but is also one of the world's most liveable cities.
Perth, the capital city of Western Australia is one of the choicest destinations in the world for higher education. It is a safe and friendly cosmopolitan city which houses many globally-recognized universities and colleges, attracting over 42,000 student enrolments every year from over 140 countries. Students in Perth get access to best-in-class educational facilities under the guidance of highly experienced research scholars and faculty members. With its stunning coastal landscapes, rich natural beauty, sunny weather, friendly people, amazing entertainment and varied dining options, it is no surprise that Perth is consistently ranked among the most livable cities in the world.
This Perth International Student Guide will help you discover more about life and opportunities that you can expect in this city.
This guide includes:
• Top reasons to study in Perth
• Student life in Perth
• Top-recommended Universities
• Top courses to study in Perth
• Part-time job opportunities
• Entry conditions/visa requirements
• Average living costs in Perth
• Transport facilities available
• Top things to do in Perth
Top reasons to study in Perth
• Academic excellence
The education system in Western Australia has gained high global recognition and thus studying in Perth will provide you with great opportunities to hone your skills and build a rewarding career. Perth is home to various world-class universities, premier vocational institutions and English language colleges which offer best-in-class academic experiences. Most of these institutions follow a practical approach to studies, thus helping students get hands-on experience and knowledge in their chosen fields. Apart from classroom coaching, various workshops and seminars are being conducted by industry experts to help students improve their professional skills and personality.
• Internationally recognized courses
Degrees and certifications from educational institutions in Western Australia are recognized world-wide and hold high relevance when it comes to employment. While studying in Perth, you can gain in-depth knowledge in your chosen field by interacting with eminent researchers and subject matter experts. All degrees and training courses maintain international standards with strict control and supervision by the Australian government. The academicians in Australia lay special emphasis to teach necessary skills that are relevant in today's ever-changing world.
• Perfect weather
Perth is considered to be the sunniest capital city in the world and boasts of clear blue skies almost 70% of the year and a 12500 km long coastline. Both locals and visitors enjoy Perth's Mediterranean climate with warm summers and mild winters. This sunny weather allows the residents to indulge in outdoor activities like cycling, swimming and trekking. Due to this favorable weather, there are plenty of options for students to engage in during the weekends such as a visit to the pristine beaches, gardens or national parks in this region.
• Cultural diversity
Perth has a rich multicultural population with people from close to 200 different nationalities. By choosing to study in Perth, you can learn and understand new cultures and traditions from across the globe. A wide range of global cuisines are served here, making it comfortable for students from other countries. The people here are very friendly and various student support initiatives are available to make life easier for students. Even the government and universities in Western Australia promote social inclusion and cultural diversity.
A Glance of Student Life in Perth
Perth is a city that every student will fall in love with. Whether you are planning to study here or live here for long-term, you can enjoy its laid-back lifestyle, unpolluted air, scenic views of the ocean and great food that's available here. Perth has a very low crime rate and is a very safe city with ample public transport facilities. International students will find it easy to adapt to the lifestyle as all essential information and services are available online. Accommodation and living expenses in Perth are affordable as compared to many other cities in Australia. It is easy to get part-time job opportunities in Perth and with that students can make money for their daily expenses. Western Australia has the fastest growing economy in the country and has created a large number of job openings across various sectors. By choosing to study in this world-class city, you can ensure a highly rewarding career and enjoy a global lifestyle.
2 Most Liked Universities in Perth for International Students
Edith Cowan University (CRICOS CODE: 00279B)
Edith Cowan University is ranked in the top 2.5% of universities in the world. ECU has achieved 5 stars for teaching quality (2020 Good Universities Guide) for 13 years in a row. ECU is the only public university in Australia to have achieved this consistently high endorsement for teaching quality. The university has also received a 5-star rating for full-time graduate starting salary for new domestic graduates under 25 years.
ECU has three campuses in Western Australia, each offering a modern and world-class environment for learning. The campus located in Mount Lawley is just 6km from the CBD of Perth. It is also home to the Western Australian Academy of Performing Arts, one of Australia's well-known arts training institutions. The campus has state-of-the-art facilities and commercial outlets offering a wholesome study environment for students. The other two campuses are located in Joondalup (25kms from Perth CBD) and Bunbury (2 hours' drive from Perth).
Curtin University (CRICOS CODE: 00301J)
Curtin University is Western Australia's largest and most culturally diverse university with Australia's 3rd largest international student population. Curtin University is ranked in the top 1% of universities worldwide in the Academic Ranking of World Universities 2019. It is ranked 21st in the world for universities under the age of 50 in the QS World University Rankings 2020 – the only Western Australian University to make the list. CU has also been awarded a 5-star overall excellence rating in the QS Stars University ratings 2019. The Perth campus is nestled in a beautiful landscape located at about 6 kms south-east of central Perth. Curtin has collaborations with some of the biggest companies in Australia and other countries, offering excellent research and employment opportunities to students. Curtin University also has campuses in Murray Street in Perth's CBD and Kalgoorlie in Western Australia.
Top courses to study Perth
With many top-rated universities and educational institutions, whichever field of study you choose, you'll find it in Perth. Architecture, Business Management, Medicine, Engineering, etc. are the popular study areas you can choose in Perth, Australia. Apart from these, there are many other Top Courses To Study In Australia which include undergraduate, postgraduate and diploma courses. Universities in Western Australia have a great reputation in the field of science & technology and thus research students can find opportunities to be part of some global, life-changing projects.
Earn while you study: It's easy to find a part-time job in Perth
One of the major advantages for international students in Australia is that your student visa will permit you to work for up to 40 hours every two weeks during the course and full-time during the semester holidays. Students pursuing a Masters by research or PhD are eligible to work full-time. A few recommended part time jobs in Australia for international students are university assistant, waiter, receptionist, retail sales assistant, etc. This will help them earn enough money required for daily expenses and also interact with the locals and learn more about the culture.
Visa and admission requirements to study in Perth
The entry conditions are similar for almost all universities and colleges in Australia. The applicant should have a recognized secondary qualification, a good IELTS/PTE test score proving your English proficiency, specified account balance if availing bank loans, etc. The IELTS band score requirement for an Australian student visa varies based on the course and university chosen. Depending upon your academic eligibility, you may also avail up to 25% fee reduction with scholarships.
Average Living Costs in Perth
When it comes to the cost of living, Perth is one of the most affordable cities in Australia. International students in Perth can enjoy a cosmopolitan lifestyle at a lower cost as compared to other major cities in the country. One can find inexpensive accommodation options, food and public transport facilities which will help to reduce the daily expenses. On an average, you can consider a minimum weekly budget of $475AUD for a single person.
The course and study costs will depend on the education provider and level of study you are choosing but can come between AUS$ 23,000 and AUS$35,000 per year on an average. There are certain financial requirements you should meet to receive an Australian student visa.
For your reference, here are some of the costs associated with living and studying in Australia (all costs are in Australian dollars)
Rental – $165 to $444AUD per week
On-campus stay – $90 to $280AUD per week
Homestays – $235 to $325AUD per week
Hostels and Guesthouses – $90 to $160AUD per week
Groceries and eating out – $140 to $280 per week
Shared Rental – $95 to $215 per week
Gas, electricity – $10 to $20 per week
Phone and Internet – $15 to $30 per week
Public transport – $30 to $60 per week
Entertainment – $80 to $150 per week
Transport Facilities: Moving in & around Perth
Perth is well-connected through an extensive public transport network called Transperth, making it easier for students to travel around the city and towards the suburbs. As an international student, you can avail 40% discount on all public transport across Western Australia.
Public Transport
The public transport system is divided into travel zones which is very convenient for anyone who is visiting the city. One can opt to travel in any three modes of transport namely trains, buses or ferries with one ticket. The travel fares are valid for up to 3 hours and will also depend on the number of zones covered during the journey.
The Central Area Transit (CAT) bus services within Perth, Fremantle and Joondalup zones are free for all people.
Bicycle
Bicycle is a great and affordable mode of transport which students can avail while studying in Perth. With the city's sunny climate and an excellent network of on-road and off-road cycle paths, students can easily travel from one part of the city to the other.
You can either buy a bicycle or rent one as per your requirement. While riding bicycles in Australia, wearing a helmet is compulsory.
Taxis & Uber
In Perth, you can hire a taxi from the streets or book an Uber taxi via your phone app. Metered taxis are available near transport terminals, hotels and shopping centers in the city. Uber is a safe and comparatively cheaper option for students living in Perth. The payment can be completed through a credit card linked to the app or pay as cash.
Top things to do in Perth
Apart from a good academic life, there is much more adventure and fun that's awaiting students in Perth. The city hosts various sports and entertainment events attracting both visitors and residents alike. Apart from that, one can explore the numerous natural wonders which are unique to this part of Australia.
Here is a list of top things to do in Perth:
• Nature walk at the Kings Park Botanical Gardens
• Learn surfing at the iconic Scarborough beach
• Visit award-winning wineries of the Margaret River region
• Cycle along the picturesque banks of the Swan River
• Enjoy a ferry ride and day out to Rottnest Island
• Explore the colourful port city of 'Freo'
• Catch a game of sport at Optus stadium
• Trek the 350-million-year-old Bungle Bungle range
• Swim with friendly wild dolphins at Monkey Mia
• Climb the towering Karri forests of the South West
• Try Sandboarding at Lancelin sand dunes
• Watch the gentle whale sharks at Ningaloo Reef
We hope that this Perth international student guide was useful for you. If you would like to study in Australia, we can help you to find the best suitable course and university. Drop us message or give us a call to connect with our education experts.

Get All Your Concerns Addressed
Interact With Our Expert Student Councellors Today