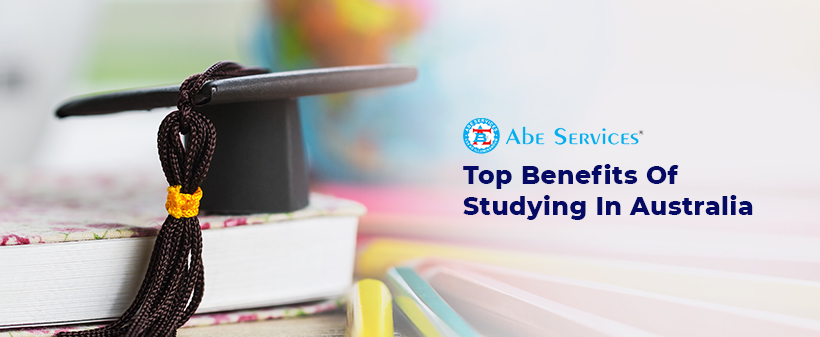 Top Benefits of studying in Australia
Australia is now a much-sought-after destination for students from across the globe. World-class universities, eminent academicians, excellent infrastructure, exciting job prospects, affordable living expenses, breath-taking natural landscapes, friendly people – the benefits of studying in Australia are plenty. Moreover, now as per the new visa norms, international students can avail up to 4 years stay-back period post-education.
What are the benefits of studying in Australia?
Stay-back period up to 4 years
Excellent Quality of Education
Work while you Study
Scholarships & other Student Benefits
Extensive Student Support Services
Affordability
Globally Recognised Courses
More than 22000-course options
Huge Job Opportunities
No Language Barriers
Moderate Weather
High Quality of Life
If you are planning to study abroad, you should consider Australia as it is one of the most student-friendly destinations in the world. Here are 12 reasons why you should choose to study in Australia.
1. Stay-back period up to 4 years
"Australia now offers up to 4 years of post-study work rights for international students to help them find a career in their chosen field".
One of the top benefits of studying in Australia is that students can now enjoy up to 4 years stay-back period after completing their Bachelor's or Master's Degree. The stay-back period varies according to the course and location of the study. This new amendment in the visa norm is definitely a great advantage for students as it will allow them to stay-back after education and find their dream job in Australia without any hassles.
2. Excellent Quality of Education
"Australian universities follow innovative and up-to-date teaching methods to help students gain relevant theoretical knowledge and practical skills in their chosen industry".
Australia takes pride in having superior quality education that is on par or higher than global standards. Being home to many top-ranked universities with renowned scholars as part of their faculty, Australia attracts a huge number of ambitious students from across the world. Independent global rankings such as the Times Higher Education & QS have consistently rated universities in Australia as few among the best in the world.
A graduate and post-graduate degree from Australia will boost the value of your resume and prepare you to face global employment opportunities.
3. Work while you study
"The Australian student visa allows students to work part-time for up to 40 hours per fortnight while the course is in session and full-time during semester breaks".
The students can gain hands-on work experience and build a good professional network with the help of part-time job opportunities. It could be a part-time job at a local supermarket, or as an assistant on campus – one can choose from many options based on their qualifications and interest. Not only does this aid in getting some money to make ends meet, but it is also a great opportunity to learn more with practical experience.
4. Reduced Expenses with Scholarships & other benefits
"Eligible students can avail up to 50% reduction in course fee through scholarships".
Students who opt to study in Australia can apply for various scholarships and grants to get a reduction in the course fee. Moreover, few Australian universities offer accommodation scholarships for students for up to 1 year. All these benefits will help students in reducing their financial burden and pursue their dream education without worrying too much about the expenses.
5. Extensive Student Support Services
"International students who choose to study in Australia can avail a wide range of support services including services provided by education providers, student unions and government".
Educational institutions in Australia ensure the best services for students as they follow a set of strict guidelines as specified by the government authorities. Australia's Education Services for Overseas Students (ESOS) Act framework is aimed to protect the rights of international students. There are student support centers in most of the major cities where issues related to legal rights, job opportunities, etc. are addressed. The students can join communities or associations to be part of activities and events. These extensive support services allow students to interact with other students and easily settle down in the new place.
6. Affordability
"In terms of cost of living and higher education cost, Australia is a popular choice amongst students, especially from India".
Education in Australia is affordable compared to many other foreign countries. Many students would prefer to choose a location that is not too expensive as they may be dependent on education loans while also looking for places that offer flexibility to work while studying.
7. Globally Recognised Courses
"37 of the world's top universities in QS World University ranking 2019 are from Australia".
Australia is considered as the 3rd most preferred location in the world for higher education. Close to over 350,000 students fly to Australia every year for Undergraduate and Post-graduate education.
Students who graduate from Australian universities will receive great recognition by employers from all over the world. A student who completes UG or PG education in Australia can easily find a rewarding job in the country or other global locations. So studying in Australia can help you enhance the value of your resume and job prospects.
8. More than 22000-course options
Australia is home to over 40 universities that offer more than 22000 courses across diverse fields that will leave you spoilt for choice. Engineering, Medicine & Healthcare, Architecture, MBA, Nutrition, Geology, Computer Science, etc. are a few of the top courses to study in Australia. Apart from these, students can choose from a wide range of UG & PG courses, Short-term Diplomas, Ph.D. programs in Australia. Many colleges offer job-oriented courses to help students chalk out an enviable career in the future. You can choose a course based on your existing qualifications and field of interest.
9. Huge Job Opportunities
If you are someone who aspires to settle abroad, studying in Australia could be the perfect gateway to make this dream a reality. With plenty of job opportunities across varied sectors, students can easily find a promising career after completing their graduation or post-graduation in Australia. You can work with some of the best organizations in the world while enjoying a well-balanced life in this country that will be your home away from home.
10. No language barriers
Unlike many other foreign countries, you do not have to worry about learning a new language if you study in Australia. As English is the major language used here, you can communicate with people without any hassles. This will also help you explore the region and easily adapt to the new lifestyle.
11. Moderate Weather
Australia features a diverse climate as it is located in the Southern hemisphere. Australia's summer starts in December and winter begins in June. Most of the regions in Australia have a warm and moderate climate. As the continent is surrounded by oceans, you can enjoy breezy weather staying close to beaches. Many students opt to live in Australia because of the temperate climate. If you wish to stay away from harsh winters, especially for people from India, Australia is an ideal location as they can adapt easily.
12. High Quality of Life
"Australian cities are considered among the best liveable places in the world".
A modern lifestyle with access to world-class amenities and beautiful landscapes await students who wish to study in Australia. Premium infrastructure, healthcare, transport and public facilities make life easier and at par with global standards. Owing to the presence of diverse cultures, students can socialize and enjoy a well-rounded life during their stay in Australia. Surfing the waves, attempting adventure sports and hiking beautiful trails further add to the charm of studying in the land down under.
We hope that by now you have got a clearer picture of what you can expect if you choose to study in Australia. If you need more guidance on trending courses, universities, visa eligibility or scholarships, get in touch with our expert counselors today!

Get All Your Concerns Addressed
Interact With Our Expert Student Councellors Today