Wondering how to apply for a student visa to Australia? Read on to know more. The government of Australia provide opportunity for students from around the world to pursue their studies in Australia. To study in Australia you'll need to apply for both admission to an institution and also for a student visa (subclass 500) from the Australian Government.
Student Visa For Australia
Brought into effect from July 1, 2016, a student subclass 500 visa is essential for a student to stay in Australia for the duration of their course, which is up to five years. A student must ensure that his visa is valid throughout his study period and he abides by the terms of the student visa. You can read more about the terms and conditions pertaining to the student visa on the Australian Government's Department of Home Affairs website.
Documents Required For A Student Visa in Australia
Following are the documents that are generally required:
A valid passport
Proof of enrolment (your electronic confirmation of enrolment)
Details of your English proficiency skills
Your Genuine Temporary Entrant (GTE) statement
Academic and work experience documents
Overseas Student Health Cover
Proof of financial ability (tuition fees, living expenses, expenses for dependents, return airfare, etc)
Digital Passport sized photographs made specifically as per standards
For students under the age of 18, one would also need parental consent as a part of the documents needed to secure a student visa.
*Please note that this is just a basic list and it is ideal to get in touch with a counsellor for more details on the visa processing to study in Australia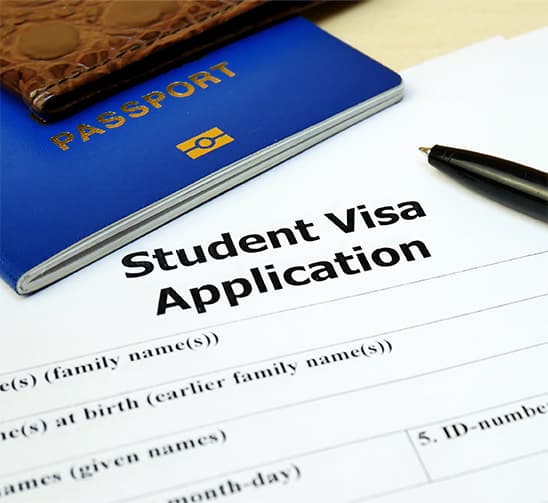 Applying for visa online

A student who wishes to get a visa needs to submit the application using DHA's online application system – Immi Account. It is advisable to apply at least six weeks before the course starts and not earlier than 12 weeks. The outcome of a visa application will be communicated by DHA via email.

Fee for an Australian student visa

The visa costs from AUD620 for the main applicant. There is also a charge for each family member who applies for the visa.

How Abe Services helps with visa application process

On securing admissions with the help of Abe Services , our expert Counsellors would then advise you on the visa process. In order to gather the right set of documents needed for the visa submission, you will be updated with the latest information on the terms and conditions of the DHA for visa process, requirements, etc.
Planning To Study In Australia?
Get In Touch With Abe Services, India's Most Trusted Overseas Education Consultants With The Highest Visa Success Rate.
Your obligations
Once you get your student visa, you and your family must meet all visa conditions and follow Australian laws. Some of the conditions that will ensure the visa remains valid are:
Provide your Australian address to your university or college so they can contact you at any point of your stay. Always keep them informed if you move.
It is important to remain enrolled and maintain satisfactory course progress and attendance to keep your visa valid.
Your financial stability is an important factor that will help you keep your visa valid.
The working conditions that apply to your visa should never be breached during the period of stay in Australia.
If you wish to change your qualification level then you will have to apply for a new student visa.
We, at Abe Services are always available to you, and will provide precise guidance to make the process of your visa application hassle free and efficient.