Studying in Canada comes with a different set of formalities as compared to other countries. It's not a Canada student visa that we are looking at, but a permit or a document issued by the Immigration Department which allows an individual to study in Canada. If one secures this study permit, he or she must remain enrolled and they must make reasonable and timely progress towards completing their education. Apart from the study permit, one will also need a Temporary Resident Visa (TRV) for their entry into Canada. It is important to understand that a study permit is a document that allows one to study in Canada while a TRV is a visa that allows the aspiring student to enter Canada.
Documents required for your study permit in Canada
Here are some of the documents that you will need to apply for your study permit:
An acceptance letter from the educational institution where you wish to study
A valid passport or travel document to support your travel.
Prove that you have enough money to pay for your expenses like the tuition fees and living expenses. Students have to ensure that they pay at least the first year tuition fees and obtain a Guaranteed Investment Certificate (GIC) for a sum of CAD 10,000 to meet their living expenses for the first year.
You must be a law-abiding citizen with no criminal record and you must not be a risk to the security of Canada (you may have to provide a police certificate for the same)
One must be in good health and should ideally take up a medical examination pertaining to the same.
Documentation of a Canadian bank account in the name of the student, if money has been transferred to Canada
Documentation of a student/education loan from a financial institution from which you have procured it.
Bank statements citing one's financial capability.
A bank draft in convertible currency.
Proof of payment of tuition and payment made towards accommodation.
A letter from the person or institution providing funds towards one's education.
Proof of funding paid from within Canada if one has obtained a scholarship or are enrolled in a Canadian-funded educational program.
Please note that these are the basic requirements and you can find more details with our counsellors.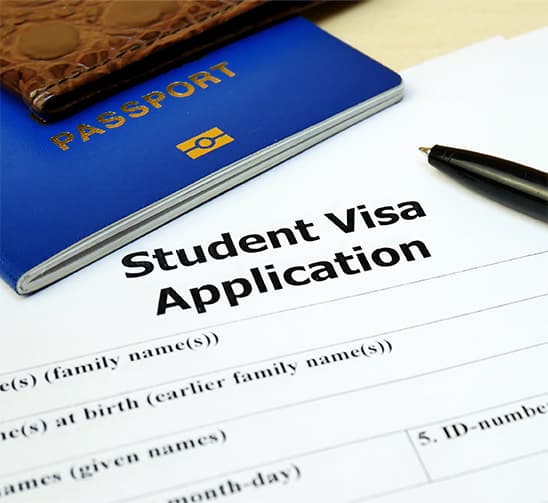 Student Direct Stream

If you are an Indian student, you can get your study permit faster through the Student Direct Stream (SDS). However, if you choose to apply through SDS, you may need additional documents to expedite the process.

Applying for student visa for Canada online

You can use the official government website to apply for student visa online. It is advisable to apply at least three months prior to your date of travel to Canada. It is important to note that the application date is the date when your application fee is paid.

Study permit fee

If you are an applicant from outside Canada , you will have to pay CAD150 as your visa fee.

How does Abe Services help with the visa application process.

On securing admissions with the help of Abe Services , our expert Counsellors would then advise you on the visa process. In order to gather the right set of documents needed for the visa submission, you will be updated with the latest information on the terms and conditions to be followed in order to obtain a study permit.
Planning To Study In Canada?
Get In Touch With Abe Services, India's Most Trusted Overseas Education Consultants With The Highest Visa Success Rate.
Your obligations
Once you get your Canada student visa, you and anyone accompanying you must meet all visa conditions and follow Canadian laws. Some of the conditions that will ensure the visa remains valid are:
Provide your Canadian address to your university or college so they can contact you at any point of your stay. Always keep them informed if you move.
It is important to remain enrolled and maintain satisfactory course progress and attendance to keep your visa valid.
Your financial stability is an important factor that will help you keep your visa valid.
The working conditions that apply to your visa should never be breached during the period of stay in Canada
If you wish to change your qualification level then you will have to apply for a new student visa.
We, at Abe Services are always available to provide you with precise guidance in order to make the process of your visa application hassle free and efficient.