If you are confused about New Zealand visa for Indian students, read on for all you need to know about the process to apply for New Zealand student visa. The New Zealand Government has created abundant opportunities for international students to study in the Country. But like every international student, Indian students must obtain a student visa as a prerequisite. The course to be undertaken, period of stay, etc. determine the type of visa that you will need. Here are the different types of visas that are available for Indian students above the age of 18 for a course longer than six months in duration:


Exchange Student Visa : This visa will help you study full-time for up to four years under an approved student exchange program.
Fee Paying Student Visa : You can study full-time for up to four years and you can also work part time during this period.
Pathway Student Visa : Three consecutive courses can be undertaken on a single student visa in this case, and one can work part time too.
Foreign Government Supported Student Visa : You can study full-time for up to four years on a foreign government loan or scholarship.
Student Visa For New Zealand
Fee paying student visa is the most common type of visa amongst Indian students. One must always remember to maintain your fee paying student status. It relates to the purpose of your visit to the Country. You can read more about the terms and conditions pertaining to the student visa on the Government's Department of Home Affairs' website for New Zealand.
Documents Required for New Zealand visa for Indian students
Following are the documents that are generally required to apply for student visa in New Zealand:
A valid passport
A letter of acceptance from an authentic education provider in New Zealand which states the minimum course duration, total tuition fee and the form in which the tuitions fees is taken. The course thus undertaken must be approved by the New Zealand Qualifications Authority
Proof of Funds: Students are required to provide evidence that they have access to NZD 15,000 per year to meet their living expenses. The evidence should be in the form of bank statements, copies of relevant bank deposits, statements or certificates showing fixed term deposits at least 6 months old, education loan, etc. Students may also use a financial guarantor (partner or spouse, parent, sibling, grandparent or parent-in-law) to help support their living expenses
Tuition Fees: Students must provide evidence that they have enough money to pay the tuition fees for the first year, and also how they will pay the tuition fees for the subsequent years of the course duration.
Passport sized photographs as per the Country's standards
Academic documents like transcripts, diplomas, degrees, certificates, etc
Visa application fee
Evidence that assures of your exit from New Zealand after the completion of your course. This can be in the form of flight tickets. However it is an optional document.
A police certificate if you are 17 years of age or older and plan to study for more than 24 months. A police certificate is a document which is used as evidence of good character
A valid medical and travel insurance coverage.
Full medical examination
Remember, it is best to speak to our expert team of counsellors who will help you make the right decision and will provide extensive support in helping you with the visa process.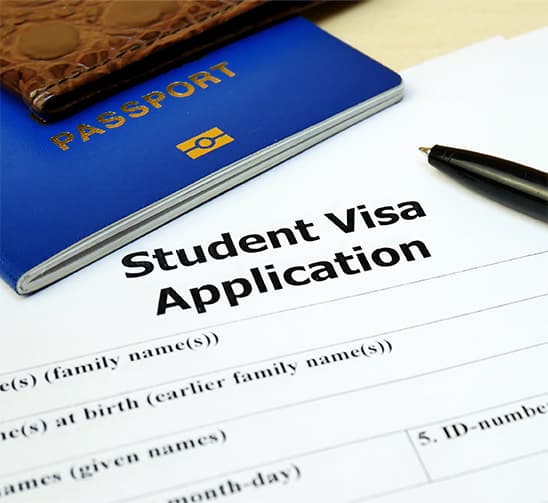 Applying for your visa online

You have to use the New Zealand Immigration website to apply for your student visa . You can apply up to 120 days before your intended date of program's start date. Your application date is identified by the date when your application fee is paid.

How Abe Services helps with visa application process

At Abe Services , our counsellors will guide you through the entire student visa application process. They will also keep you updated with the latest news and all the other updates pertaining to your visa at regular intervals.

Fee for a student visa to study in New Zealand.

The receiving center fee will depend on the kind of submission you make– online or paper, course, nationality, etc. Online applicants are required to pay a student visa fee of NZD 330 + INR 772. There are separate charges for any family member who applies for the visa along with the student.
Planning To Study In New Zealand?
Get In Touch With Abe Services, India's Most Trusted Overseas Education Consultants With The Highest Visa Success Rate.
Your obligations
Once you gain your student visa, you must meet all visa conditions and follow the law and order that is followed in the country. Some of the conditions that will ensure the visa remains valid are:
Provide your address in New Zealand to your university or college so they can contact you at any point of your stay. Always keep them informed in case of moving homes.
Your financial stability will help you keep your visa valid.
It is essential to remain enrolled and maintain satisfactory course progress and attendance to keep your visa valid while studying in New Zealand.
The conditions pertaining to your visa should never be breached during your stay in New Zealand.
If you wish to change your qualification level then a new student visa must be procured.
We, at Abe Services are always available to you, and will provide precise guidance to make the process of your visa application hassle free and efficient.