Wish to apply for a UK student visa? Here is all you need to know about the visa process. Students from around the world, including Indian students are provided an opportunity to study in UK by the government. This can be possible by obtaining a student visa.
Student Visa For UK
It is applicable to students aged 16 and above who have already been offered a spot in the course of their liking at an educational institution in UK. One should apply three months before the commencement of the course and arrive one week before if the course spans six months or is shorter. One will have to arrive one month before if the course lasts more than six months. Short-term study visa Students who have been offered a seat in a short-term course in the UK, such as an English language course or any training course should opt for this visa. They should apply three months before their date of arrival in the UK. Tier 4 General Student Visa (Sponsor) This visa is suited for those students who have been offered a seat in a course at an educational institution in the UK with a valid Tier 4 sponsor. They should apply three months before the start of the course and arrive at least one month prior to the commencement of the course if it lasts for more than six weeks. *For more information you can visit the Gov.UK website.
Documents Required for a Student Visa in UK
To be eligible for a Tier 4 student visa, you must have the following:
An unconditional offer letter of a place for a course with a licensed Tier 4 sponsor
Documents pertaining to the financial capability to support yourself and pay for your course.
A valid passport and other valid travel documentation.
Prove your financial capability to take care of your living expenses for the duration of your course.
Confirmation of Acceptance for Studies (CAS) with the reference number and documents used to obtain the same.
Passport-sized colour photographs as per the UK immigration requirements.
Tuberculosis screening (if required).
Assessment documentation.
Academic Technology Approval Scheme (ATAS) clearance certificate (if required).
These are the basic requirements and you can find out more about the documents required for the UK student visa process by speaking to our counsellors at Abe. It is important to remember that if any of your supporting documents are not in English, they will have to be translated. Each document that is translated must bear the date, the translator's name, signature and confirmation that it is an accurate translation of the original document.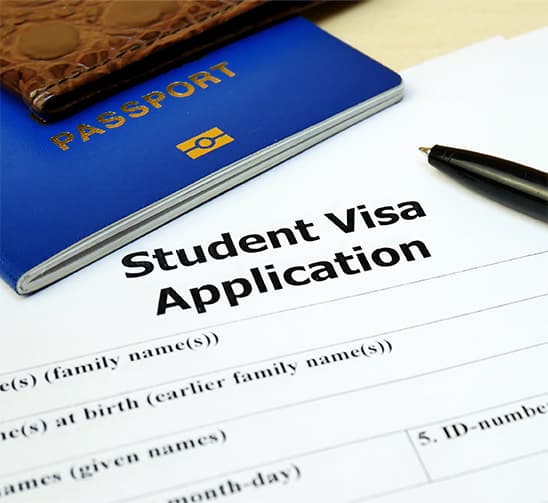 Applying for your visa online

You can apply for a UK student visa online by using the British Government's official Gov.UK website. It is ideal to apply up to three months before your intended date of travel to the UK, and one must remember that the application date is the date when the application fee is paid.

How Abe Services helps with visa application process

On securing admissions with the help of Abe Services , our expert counsellors would then advise you on the visa process. In order to gather the right set of documents needed for the visa submission, you will be updated with the latest information on the terms and conditions of the visa process, requirements, etc.

Visa fee

If you are an applicant from outside the UK, you will have to pay £348 as your visa fee.
Planning To Study In UK?
Get In Touch With Abe Services, India's Most Trusted Overseas Education Consultants With The Highest Visa Success Rate.
Your obligations
Once you get your student visa, you must meet all visa conditions and follow the laws in the UK. Some of the conditions that will ensure the visa remains valid are:
Provide your address in the UK to your university or college so they can contact you at any point of your stay. Always keep them informed if you move.
It is important to remain enrolled and maintain satisfactory course progress and attendance to keep your visa valid.
Your financial stability is an important factor that will help you keep your visa valid.
The working conditions that apply to your visa should never be breached during the period of stay in the UK
If you wish to change your qualification level then you will have to apply for a new student visa.
We, at Abe Services are always available to you, and will provide precise guidance to make the process of your visa application hassle free and efficient.