Are you an aspiring candidate seeking more information on student visa for USA? Read on as we give you important insights into the process of procuring an American student visa. Students from around the world aspire to study in USA, and hence the US Government provides an opportunity to deserving students to study in the country. However, one must first obtain a student visa as a prerequisite.
Student Visa For USA
Procuring an American student visa depends on many factors like your age and the subject of interest, etc. The Government of USA offers three different student visas:

F-1 Student Visa:

If you wish to study at an accredited US college or university or to study English at an English language institute, you need to apply for an F1 student visa.

J Exchange Visa:

If you are a student participating in an exchange program, including high school and university study, then this is the type of visa that you should opt for.

M Student Visa:

If you wish to pursue a non-academic course or a vocational course or training in the US, then you must apply for an M student visa.

*For more information, please visit the US Government's Department of State website.

For all the above types of visas, you must first apply and be accepted by a school or university in the US that is certified by the Student and Exchange Visitor Program (SEVP). Once you are accepted, you will receive a Form I-20 from the institution's international student office which is a record of your acceptance and your information is recorded on a database called the Student and Exchange Visitor Information System (SEVIS).


Documents required for a US student visa
Here are some of the documents that you may need while applying for your student visa for the US:
An original passport that is valid for at least six months beyond your period of stay in the US (unless exempted by country specific agreements)
Acceptance at a SEVP approved school and the Form I-20 that you have received from your school/university of choice
Application fee payment for the SEVIS
Non-immigrant visa application and the Form DS-160 confirmation page
Your photograph in the format and quantity as requested.
Academic documents such as transcripts, diplomas, degrees, certificates etc.
Evidence of your financial capability to take care of your expenses during your stay in the country including your bank statement
Financial undertaking by a sponsor to cover your accommodation and living costs during your stay in US.
Evidence that you will leave the US once you have completed your course of study is also essential. This can be in the form of an air ticket out of the US to your home country
Applicant may also have to appear for a personal interview at the US embassy or consulate as per the regulations.
*Kindly note that these are the basic requirements and you can find out more by contacting our expert team of counsellors at Abe Services for more details.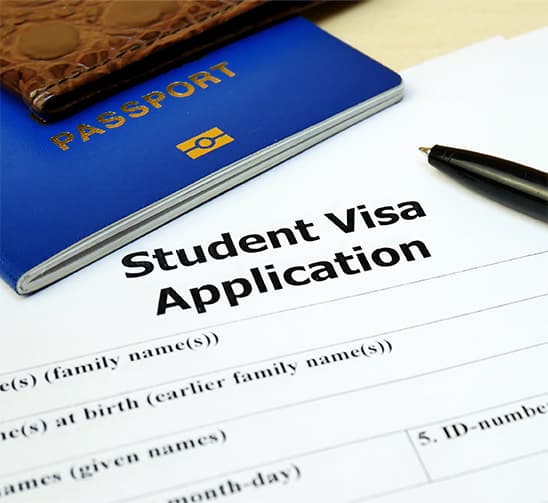 Applying for your visa online

Aspiring students need to apply for their student visa application online using the US Embassy and Consulates India website. One can apply 120 days before the commencement of the program. It is important to remember that your application date is the date when your application fee is paid.

How Abe Services helps with visa application process

On securing admissions with the help of Abe Services , our expert Counsellors would then advise you on the visa process. . In order to gather the right set of documents needed for the visa submission, you will be updated with the latest information on the terms and conditions of the visa process, requirements, etc.

Visa fee

If you are an applicant from outside the US, you will have to pay US$160 as your visa fee.
Planning To Study In USA?
Get In Touch With Abe Services, India's Most Trusted Overseas Education Consultants With The Highest Visa Success Rate.
Your obligations
Once you get your student visa, you and your family must meet all visa conditions and follow the American laws. Some of the conditions that will ensure the visa remains valid are:
Provide your address in the USA to your university or college so they can contact you at any point of your stay. Always keep them informed if you move.
It is important to remain enrolled and maintain satisfactory course progress and attendance to keep your visa valid.
Your financial stability is an important factor that will help you keep your visa valid.
The working conditions that apply to your visa should never be breached during the period of stay in the USA.
Attend all your sessions without fail. Contact your DSO (Designated School Official) if you are finding the course too difficult to handle.
Contact your DSO if at any point you think that you'll be unable to complete the course on the date listed on your Form 1-20.
Consult your DSO without fail if by any chance you have to drop out of the course.
We, at Abe Services are always available to you, and will provide precise guidance to make the process of your visa application hassle free and efficient.