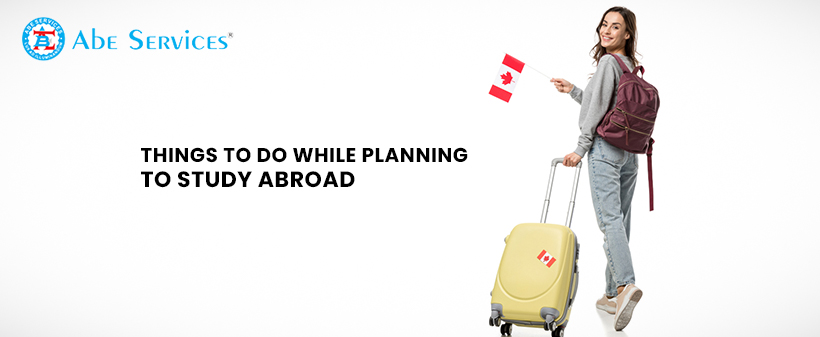 8 Things to do While Planning to Study Abroad
Step by step process by which you can realize your study abroad dreams.
Almost all great opportunities arise in the midst of crises. This is also true about international education. If you are planning to study abroad and have no idea where to begin, you have come to the right place. Here is a step by step process that you can follow to realize your study abroad dreams. With over 12 years of expertise, we at Abe Services have helped realize the dreams of thousands of students with comprehensive guidance in relation to choosing the right academic destination, university and course. Our services are aimed at delivering a hassle-free process for all our clients to secure their admission and visa.
1. Find the best study destination for you
The first step in your study abroad journey is to choose which country you want to study in. Do some research and find out the pros and cons of each study destination. Make sure that you factor in the health support systems and living costs in the country of your choice. Another important aspect to consider is the stay back period being offered by the respective study destinations. For example, Australia offers a stay back period of up to 4 years post education while countries like the UK and Canada offer a stay back period of 2 years and up to 3 years respectively. Stay back period comes with an open work permit wherein international students get the chance to gain professional experience and explore the culture of the country even further. If you are finding it difficult to find the details, you can always get in touch with the expert education counsellors at Abe Services to get your doubts cleared.
2. Choose the Course You Want to Study
The number of course options available to you can depend on your interests and academic background. Do some research and find out the employment opportunities that the course of your choice will provide you after your studies. For example, websites like joboutlook can give you insights into the employment rates and average salaries of the career options that your chosen course provides in Australia. Resources like these are available for other countries as well. The best part about studying overseas is the emphasis given to work-integrated learning. Unlike India where textbook knowledge is given more importance, the curriculum across universities overseas are more focused on practical elements wherein the students obtain ample industry exposure. This ensures that each and every student is job-ready upon graduation. Also, courses overseas have a shorter duration like Bachelor of Nursing in Australia has a course duration of only 3 years while at the Master's level courses in the UK and Ireland has a course duration of only 1 year. This offers the applicant a chance to enter the job market much in advance in comparison to their peers in India.
3. Choose your University/ Institution
Choosing your educational provider can be a bit tricky. Consider scholarship options, global rankings, faculty and infrastructure before you choose a particular university or institution.  Also, do explore the student support services being offered by the university in question as it plays a major role in helping students settle in a new country. To make the research process easier to finalize the right university, we would suggest attending various virtual open sessions. Almost all reputed colleges and universities regularly conduct open sessions to share information and updates to prospective international students.
For more in-depth information it is always a good idea to interact with a seasoned education counsellor. We at Abe Services offer free counselling services so that prospective students receive proper guidance as quickly and efficiently as possible.
4. Start the application process
Due to the COVID-19 situation, travel to many study destinations is not possible at the moment. Many universities and institutions have started online programs so that students can enrol without wasting any time and fly to the destination when governments lift the restrictions for travel. Getting started online will make you first-in-line. Delaying the admission process is not ideal as most reputed universities across the globe do not entertain academic gaps without valid reasoning.
5. Get in touch with our education counsellors
Our education counsellors are available online and can guide you through the entire process. They can help you in choosing the study destination, course and the institution with up-to-date information. Schedule a free counselling session right away by submitting an enquiry on Abe Services Website.
6. Prepare for your IELTS/ PTE
English language proficiency is a must for all applicants who are exploring the option of studying in an English speaking Country. Your English language proficiency is analyzed by the universities and colleges by interpreting your test scores of either IELTS, PTE or TOEFL. If you are a prospective student looking to gain admission for any upcoming intakes in Australia, Canada, the United Kingdom, New Zealand, the United States of America or Ireland, it is always recommended to have valid and acceptable language proficiency test scores well in advance. If you need help preparing for any of these language proficiency tests, we have expert trainers here at Abe Services who can help you clear IELTS/ PTE/ TOEFL with flying colours. Our training programs are available both online and offline. Get in touch with our counsellors to avail the same.
7. Work on Your Statement of Purpose (SOP)
A genuine and perfectly structured Statement of Purpose (SOP) is the job half done in gaining admission and Visa. The SOP submitted to the university or college and Visa officer showcases your academic intentions as well as your future aspirations. Misleading, plagiarized or inadequate SOP submitted may lead to your application for admission to the university or college being denied and in the worst case even the visa being rejected.
Considering the importance of a genuine and flawless SOP, it is recommended that you put in time and effort well in advance to produce the same. Experts at Abe Services can provide you with the right guidance in this matter.
8. Getting your finances ready
Sort out your finances and choose the source of your funding; savings, loans or scholarships. If you want to apply for scholarships, apply for it now! A good scholarship can lower your education costs considerably. Get in touch with the education counsellors at Abe Services so that they can help you find the perfect scholarship for you. It is important to remember that it is not just the tuition fee, you have to factor in other costs like accommodation, travel, stationery and other ancillary costs. Most students opt for an education loan to meet the financial requirements. At Abe Services, we offer education loan assistance to our clients so that they can obtain the required funding without any hassle. We have an ongoing association with leading banks in the state so that the loan applications of our clients can get processed as quickly as possible.
All the universities are open and most of them have started online programs. It is ideal that you start with your courses online so that you will be in the first batch of students to fly to your desired country when the borders reopen. Abe Services will be there with you throughout your study abroad journey. Get in touch with our education counsellors today.  

Get All Your Concerns Addressed
Interact With Our Expert Student Councellors Today