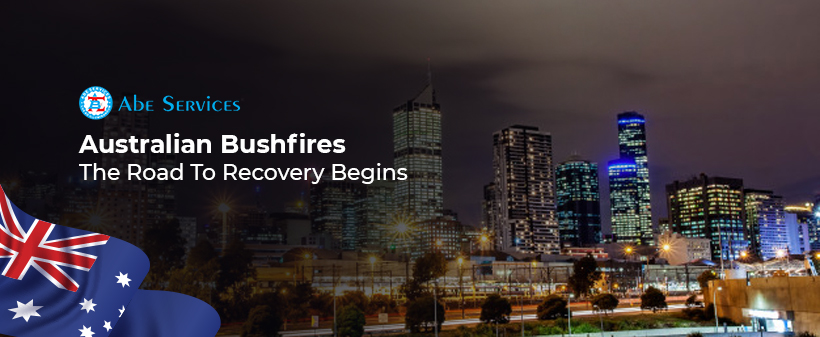 Australian Bushfires : The Road To Recovery Begins
If you are a student who is aspiring to study abroad, then it is likely that Australia is one of the top study abroad destinations on your list. Owing to the world-class quality of education, infrastructure and a host of facilities that one can enjoy, Australia has become a favorite amongst students from around the world. With hundreds of courses spanning different subjects and durations, Australia has a lot to offer to those who wish to enjoy a successful career on a global platform.
If you have been following the international news recently, you may be well aware of the wild bushfires in Australia. These wild bushfires are a natural occurrence in the dry season and often happen when the lightning strikes drought-hit areas especially in the summer and is mostly seen in areas with extensive dry vegetation. However, it is only sometimes that these fires become hazardous. The bushfires were extensive in New South Wales, along with parts of Melbourne and Sydney bearing the brunt. While a lot of life, especially vegetation and wildlife has been a target of these wildfires, Australia is doing everything it can to cause minimal damage to human life and the ecology. It is truly a commendable achievement for different organizations and individuals who have gone to great lengths to ensure that they can do everything within their power to do their share in such times of distress.
During such scenarios, it is always likely for international visitors, especially students who are planning to pursue a course in Australia to be concerned. What is remarkable is the fact that all the Universities across Australia have extended a tremendous amount of support to the students to help them cope with this crisis. Even though the majority of students were not directly affected, the Universities went above and beyond by offering complete support including temporary accommodation, financial aid, personal essentials, laptops and study materials to those who were in need. Helplines and email support have been set up by the universities to assist those who are concerned and would like to gain more information.
It is heartening to see that not only has the whole country come together, but aid in the form of manpower and financial help has been pouring in for the benefit of those suffering from around the world. One can be assured that the government and private organizations are going to great lengths for the benefit of every human or animal that has suffered the wrath of this instance. If you are an international student who is coming to Australia in the coming months, it is important for you to stay updated with the latest happenings. As each region is differently impacted by this event, the institution that you have enrolled in, is the best place to seek information. You can contact them to find out more about the situation around the time of your entry into Australia. You can also get in touch with your educational consultancy and enrolment officer to find out more about the events, updates and to understand the safety measures that need to be taken.
While this incident has left many people shaken, it has also shown the world the managerial skills of the nation at large. One can be assured that ample measures are taken to do everything possible to bring life back to normal in parts that have been affected by these wild bushfires. The recent rains have brought great relief to the places affected by the fire as many fires have died out. Slowly, but surely, everything is being managed and controlled to not only reduce the damage done but also to prevent such instances in the future.
A new batch of international students is all set to embark on their dream educational journey in this continent. Australia continues to be a preferred destination for international students due to the lifestyle, educational opportunities, post-education work rights, etc. that it has to offer. If you are harboring a dream of studying in one of the leading universities in the world, then Australia should still be on the top of your list.
For more details and real-time updates on the bushfire crisis in Australia you may visit the links below:

Get All Your Concerns Addressed
Interact With Our Expert Student Councellors Today