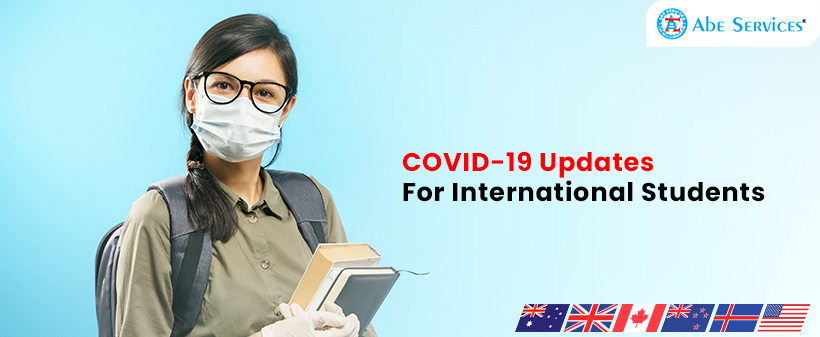 Can You Study Abroad in 2021? COVID-19 Updated Guide
As uncertainty still looms in relation to the opening of the borders, International students are finding it difficult to gather resourceful information to plan their higher education overseas. We have put forth an article with up-to-date information on the latest travel announcements for Australia, Canada, Ireland and the United Kingdom.  
United Kingdom
The United Kingdom was one of the first countries to open its international borders to visitors including international students. Being one of the foremost destinations for overseas education, the United Kingdom used to welcome over 750,000 international students each year. However, as of now, certain restrictions have been put in place by the UK government with face to face classes only being allowed to take place for courses with practical or practical based subjects that requires access to specialist equipment or facilities on campus.
The majority of the courses are being taught online or in a blended format. Here are the regulations to be followed by travellers to the United Kingdom.
1.     For all travellers arriving in England from countries, not under the "red list" will have to quarantine at the place of their choice for 10 days. They will also be subjected to two Covid-19 tests. One to be taken on the 2nd day and the second to be taken on the 8th day. The day of arrival in England will be counted as Day 0. Travellers should also abide by the rules set in place prior to these new restrictions, including taking a Covid-19 test within 3 days of the departure date from their home country. Also, a Passenger Locator Form will have to be completed before arrival in the UK. Kindly note that India is currently not a part of the "Red List." Passengers are required to book their Covid-19 test via the official online booking platform. The cost for the same will be GBP 210
2.     For those arriving in Wales the process remains the same as that of England.
3.     For all travellers arriving in Northern Ireland, the process is almost similar to that of England and Wales with the only advantage being that they will not be subjected to the 2 Covid-19 tests.
4.     In Scotland, it has been made mandatory to quarantine at a designated hotel chosen by the Government. All travellers will have to quarantine at a designated hotel for 10 days for a fee of GBP 1750. They will also be subjected to 2 separate Covid-19 tests on the 2nd and the 8th day.
5      International students are required to submit the proof of a Covid-19 certificate to the authorities. This has to be generated no more than three days prior to your departure date. This particular document should include the following details without fail:
 Your Name – This should match the information on your passport
DOB – Date of Birth
  Test Result
The date on which the test was carried out
Details of the diagnostic centre or the hospital at which the test was carried out
The name of the test carried out
6.     Passenger Locator Form: Each and every traveller to the UK are required by law to fill in a passenger locator form. The same has to be submitted to the department 48 hours before your arrival in the UK. It is important to mention the address where you'll be staying in the United Kingdom during the quarantine period. A mandatory 10 day quarantine period has to be met by each international traveller. You can fill in the Passenger Locator Form by visiting this link.
7.     Over 30 countries have been placed on the travel ban list by the Government. It would be of great relief to note that India is not part of this list and students can travel to the United Kingdom as soon as their Student Route visa is granted. The list of countries placed on the travel ban list can be found here.
8.     Biometrics Residence Permit: International students pursuing their higher education in the United Kingdom are required to collect their Biometrics Residence Permit upon arrival in the Country. Usually, this was supposed to be done before the Vignette expires or within 10 days of arrival, whichever is later. But now, students cannot collect their BRP unless and until they successfully complete their quarantine period. The post office will hold your BRP for up to 90 days.
Canada
Welcoming over 500,000 international students each year, Canada has made its mark as one of the most preferred educational hubs in the world. The affordable tuition fee structure, stay back period of up to 3 years, a host of programs ranging from Diploma, Advanced Diploma, Bachelor's, Post-graduate Certificate and Master's, institutions in Canada are renowned for their work-integrated learning curriculums designed for graduates to enter the highly competitive workforce. The previous year, owing to the closure of the borders, institutions in Canada did witness a downfall. However, right now things are looking positive as the borders are open and students can indeed travel to fulfil their academic dreams. Here are the rules and regulations to be followed.
1.     Students who have obtained a Letter of Acceptance from an institution with an approved Covid-19 readiness plan in Canada can now travel to the country. To check if your college/university is a Designated Learning Institute, click the following links below:
Designated Learning Institutes
Covid-19 Readiness Plan Approved DLI
2.     Students or travellers are now required to secure a Covid-19 negative certificate 72 hours prior to the departure date. As per the recent travel updates introduced by the Canadian Government, international students travelling to Canada will have to undertake a Covid-19 molecular test upon arrival at the airport and then move to a government authorised hotel for a 3-day quarantine period and await the test results. The cost will have to be borne by the student and the same is expected to be around CAD 2000. Travellers can book their government-approved hotel by visiting the link here.
3.      It is to be noted that even if you get a negative certificate, you are required to quarantine yourself for a period of 14 days. Students are encouraged to get in touch with their respective institutions and obtain a Travel Support Letter detailing the place of stay, pick-up facility from the airport and support in relation to effectively managing their quarantine period.
4.     ArriveCan Application: This official application of the Canadian Government was recently made available to international travellers. Travellers to the country including international students are required to submit the following details via the ArriveCan application prior to their departure date:
Your contact information including your Name, Email ID, Date of Birth, Phone Number
Travel details including your date of arrival, flight number, the purpose of your travel, and any symptoms that you may be experiencing.
In relation to your quarantine plans, you'll be asked to declare whether you have a place to stay for the 14 day period and the address of the place. If at your place of stay, there are people at increased risk from Covid-19 like people who are above the age of 65, have underlying medical conditions or have compromised immune systems, the same will have to be informed beforehand.
After you arrive in Canada, you'll get a push notification on the application on the second day of your quarantine to confirm your arrival at your place of isolation and to start your daily reporting.
5.     To help support international students, the Government of Canada has announced that studies completed outside of Canada until December 31, 2021, will count towards the Post Graduate Work Permit. Most likely for the May intake, students should expect to receive an Approval in Principle to start their education online. Once the AIP is obtained they should wait for their biometrics appointment at the VFS. Once this process is done, students should then wait for the PPR (Passport Request) from  IRCC. After obtaining the PPR the student should get in touch with VFS via email to arrange a two-way courier service and complete this process.
6.     Regarding the recently held PR draw under the Canadian Experience Class 27,332 candidates were sent the Notification of Interest by the Canadian Government of which most are previous international students. This is the first time in the history of Canada that so many applicants have been invited to apply for PR in a single draw. The lowest CRS score was 75 out of 1200. This clearly shows that Canada is in need of educated professionals to join their workforce.
7.     As per the VFS website, all those applicants submitting their applications under the Study Permit and Family Class Priority, Work Permit, Returning Students & Workers can now enrol biometrics across Canada Visa Application Centres in India. Please note that all applicants must ensure that they are in possession of the Biometric Instruction Letter (BIL) prior to visiting the Canada Visa Application Centre.
Australia
With a stay back period of up to 4 years and a host of scholarship opportunities including a 75% reduction in tuition fees, studying in Australia is a dream many international students cherish. The country has been setting international standards for excellence in education with many of their universities ranked in the top 3% in the world as per the Times Higher Education and Quacquarelli Symonds (QS) world rankings. Regarding international travel, the Australian borders are currently closed and students are encouraged to start their courses online. Here are the factors to consider for those planning to study in Australia:
1.     On the 20th of July, 2020, the Australian Government started granting student visas in all locations lodged outside of Australia. This entails that as soon as the borders open, students will be able to travel.
2.     Existing and new student visa recipients who undertake education online due to the Covid-19 restrictions will not in any way have their Post Study Work Rights affected.
3.     A pilot program was approved by the Australian Government wherein 70 international students were allowed to travel to Charles Darwin University in the Northern Territory.
4.     International students with a valid health insurance plan will receive free Covid-19 vaccination in the country.
5. Those students who are currently pursuing a degree related to medicine, dental, nursing or allied health with evidence of confirmed placement and are in the final two years of their study or in case where their medical practice begins in the next 3 months can travel to Australia as they are part of the Individual Exemptions category. Please note that the placement should be of at least a minimum of 24 hours per week for an average of 3 months or longer.
6.     Priority to travel once the borders open will be given to all those students who have opted to start their course online and are successfully pursuing the same. As there will be a huge rush, it is advisable to enrol in courses as quickly as possible to get ahead of the queue when the borders open.
Ireland
Ireland is one among the preferred destinations for graduates of Computer Science or Information Technology. This is due to the fact that Ireland offers a host of Master's degree courses under the ICT sector and is a country that is known as the technology hub of Europe. With many of the top companies in the world like Facebook, Google and LinkedIn having their European headquarters in Dublin, the country has become a hive of activity with many international students planning to kick-start a successful career upon completion of their degree.  Here are the latest updates for those planning to pursue their higher education in Ireland:
1.     As of today, only those applying under the "Priority/Emergency" cases will be allowed to travel. As per the VFS website these include:
Workers or self-employed persons exercising critical occupations including healthcare workers, frontier and posted workers as well as seasonal workers as referred to in the Guidelines concerning the exercise of the free movement of workers during the COVID-19 outbreak;
transport workers or transport service providers, including drivers of freight vehicles carrying goods for use in the territory as well as those merely transiting;
patients travelling for imperative medical reasons;
pupils, students and trainees who travel abroad on a daily basis and Third-country nationals travelling for the purpose of 3rd level study. As Ireland is currently under Level 5 restriction, students are not encouraged to travel unless and until there is a physical requirement for them to be in a classroom or lab as part of the course
persons travelling for imperative family or business reasons;
diplomats, staff of international organisations and people invited by international organisations whose physical presence is required for the well-functioning of these organisations, military personnel and police officers, and humanitarian aid workers and civil protection personnel in the exercise of their functions;
passengers in transit;
seafarers;
 journalists, when performing their duties.
2.     A Passenger Locator Form has been introduced by the government for international travellers under the Priority/Emergency category.  This is a mandatory requirement and has to be submitted at the airport upon arrival. The Passenger Locator Form can be accessed in this link
3.     All travellers are required to obtain a Covid-19 negative certificate from their respective country. The test has to be done within 72 hours of the intended date of travel.
4.     In effect from the 4th of February, 2021, a legal requirement has been put in place for all travellers to undergo a 14 day quarantine period. You may choose to end your quarantine if you retake the PCR test after 5 days of your arrival in Ireland and obtain a written confirmation that your result is negative.
5.     International students who are currently in Ireland will have access to free healthcare in relation to the treatment for Covid-19.
6.     As it stands, universities in Ireland are making preparation to welcome students for the September 2021 intake. However, students should keep in mind the fact that if face-to-face programs are not available the Universities may choose to start the course via remote leaning
Hope you found this article helpful. If you need any assistance in relation to realizing your dream of studying overseas, please feel free to get in touch with our student counsellor by submitting an enquiry  here.  Our counselling services are absolutely free and we will provide you with end to end services to ensure that you are part of a leading university at the destination of your choice.

Get All Your Concerns Addressed
Interact With Our Expert Student Councellors Today