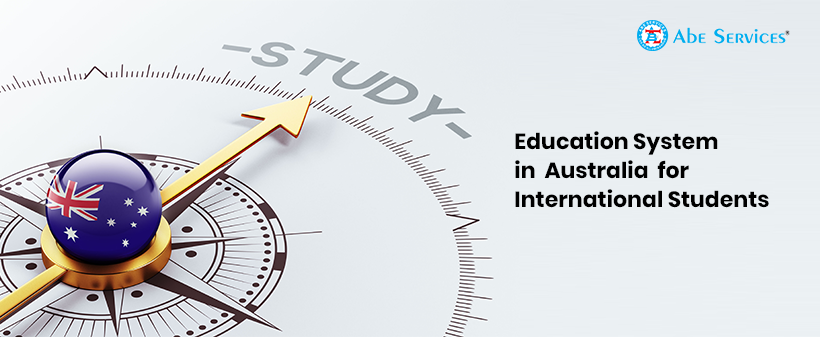 Education System in Australia for International Students
The education system in Australia has an excellent global reputation for providing students with a high-quality education at all levels – primary school, secondary school, and tertiary education. Australia is rated by the Legatum Institute Researchers as the best country in the world for education based on key aspects such as quality of education, access to education, and human capital.
If you are looking for opportunities to study abroad, Australia is a great option. Studying in Australia will not only allow you to experience world-class education but will also let you exploit a vibrant and enjoyable lifestyle. Major cities like Melbourne, Canberra, Sydney and Perth are considered as some of the best student cities across the globe. With more than 1,100 institutions and 22,000 courses to choose from, Australia offers international students a wide range of options to choose from.
Listed below are some of the keys aspects that you should know about studying in Australia.
Higher Education in Australia
University education is the highest level of education in Australia. There are 43 universities in Australia. Out of these, 40 universities are Australian; two are international, and one is a private specialty university. Students can choose to study on-campus bachelor degrees or postgraduate courses including certificate, postgraduate diploma, master's and doctoral programs. Tertiary education includes both higher education in universities and vocational education and training (VET). Australia's higher education system plays an important role in driving innovation across diverse fields. The students are provided with all the skills required to be accepted into the workforce post-education.
Globally Recognized Universities
37 universities in Australia have been ranked among the world's best as per QS World University Rankings. 7 universities in Australia are among the top 100 universities in the world. 5 Australian universities have been placed in the top 25 by Times Higher Education World University Rankings. This ranking is based on various factors such as the student to staff ratio, infrastructure, quality of education, student satisfaction, employability, global research collaborations and more. Australia is also the country that has a higher number of young universities than any other country in the world. 16 of the 43 Australian universities are placed among the world's top 100 universities that are less than 50 years old.
Emphasis on Quality: AQF, TEQSA & ASQA
Australia has an integrated education system backed by the Australian Qualifications Framework (AQF), a national policy for regulated qualifications across schools, vocational education and training (VET) and higher education. It was introduced by the Australian Government to specify the standards for educational qualifications in Australia. This helps international students in choosing reputed universities and courses in Australia. AQF qualification ensures that the institution you are choosing is authorized by the government and also ensures that the qualifications provided are nationally accredited and internationally accepted. AQF aims to maintain consistency and a high standard of education across the country.
The Tertiary Education Quality and Standards Agency (TEQSA) is Australia's independent national quality assurance and regulatory agency for higher education. Every organization that offers higher education in Australia must be registered by TEQSA. Their aim is to protect the students' interest and to ensure that the reputation of Australia's higher education sector remains intact. This is achieved through a proportionate, risk-reflective approach that offers quality assurance which supports diversity, innovation and excellence.
ASQA is the national regulator for Australia's vocational education and training (VET) sector. They aspire to build confidence amongst students, employers and governments in the quality of vocational education and training offered by Australian universities.
These bodies ensure that the students receive the best education and infrastructure while also helping Universities maintain a reputation that helps them gain global recognition.
Student legal rights & protection
An international student has certain rights and protections under Australian law. These laws ensure that all students get fair treatment and have access to high quality education. The Office of the Commonwealth Ombudsman investigates complaints about education providers submitted by international students. An education provider can be a school, college or university in Australia. Their services are free of cost and impartial and can be availed by future, current or former students. If you are studying at a public university or TAFE (Technical and further education) institution, you should contact the Ombudsman in the respective state or territory in which you are studying. All courses offered to international students are authorized by the Australian Government through the CRICOS register, to maintain consistency and top standard of education across the country. International students are also protected by the Australian Consumer Law for buying goods and services.
CRICOS Registration
CRICOS stands for Commonwealth Register of Institutions and Courses for Overseas Students. It registers education institutions that enroll international students in Australia. CRICOS is a government registry of Australian educational institutions that provide education services to international students. All the institutes and courses that are been offered to international students must be registered under CRICOS. The register is managed by the Department of Education -Australian Government. The objective of CRICOS is to protect the interests and right of international students and ensure high-quality education and teaching methods. Before applying for a course, you should check the institution's authenticity and teaching standard by verifying the CRICOS registration code. The list of institutions can be accessed online by the public. You can search for courses by education provider name or CRICOS code.
Education Services for Overseas Students (ESOS) Act
The Education Services for Overseas Students Act (ESOS Act) protects the rights of international students in Australia. The aim of the ESOS Act is to ensure and enhance the quality of education and training services offered to International Students in Australia. This act lays out the legal framework for the welfare of overseas students. It specifies certain standards that Australian education providers must meet in order to be eligible to offer education to overseas students. ESOS and the National Code also outline the responsibility of providers in managing their education agent network. ESOS Act also supports the migration laws in Australia, as it ensures the collection and reporting of relevant information relating to student visas.
Tuition Protection Service (TPS)
Australia has been a global leader in protecting the rights of international students over the last few years. Recent changes to the Education Services for Overseas Students (ESOS) Act have further strengthened protections for international students through the introduction of the Tuition Protection Service (TPS). The Tuition Protection Service (TPS) is an initiative by the Australian Government to assist international students in the unlikely event their education provider is unable to deliver a course they have paid for and does not meet their obligations to offer an alternative course that you accept. The TPS also helps students to get the tuition fees refunded by the institution in case they did not start or have stopped a course. The TPS will enable students to either complete your studies in another course or with another institution or receive a refund on your unspent tuition fees.
Higher Education System in Australia:
HIGHER EDUCATION

AQF LEVEL

Doctoral Degree

Level 10

Master Degree

Level 9

Bachelor Honours Degree

Level 8

Graduate Diploma

Graduate Certificate

Bachelor Degree

Level 7

Associate Degree

Level 6

Advanced Diploma

Diploma

Level 5
Vocational Education & Training (VET) Education System in Australia:
| | |
| --- | --- |
| VOCATIONAL EDUCATION AND TRAINING | AQF LEVEL |
| Vocational Graduate Diploma | Level 8 |
| Vocational Graduate Certificate | Level 8 |
| Advanced Diploma | Level 6 |
| Diploma | Level 5 |
| Certificate IV | Level 4 |
| Certificate III | Level 3 |
| Certificate II | Level 2 |
| Certificate I | Level 1 |
| Senior Secondary Certificate of Education | |
English language training in Australia
If you are planning to study in Australia, you should make sure that you have good English language skills. If your language proficiency is poor, you can enroll in a language training class before starting your course. Australia is popular for its English language training services and has around 100 private English language centers around the country. Universities and TAFEs offer specialized courses for people who wish to develop their English language skills. Australia is the only country in the world with an English language training accreditation and quality assurance framework. 
Vocational Education and Training (VET) 
Australia's Vocational Education and Training (VET) courses are aimed to impart valuable practical skills and industry-specific training to students to make them job-ready. Vocational training courses are offered in government-funded institutions, including TAFE (Technical and Further Education), or other private institutions. An Australian vocational education and training (VET) qualification serve as a pathway to entering the workforce or university. Vocational training courses are available in various domains such as business & marketing, IT, art, media, hospitality, tourism, logistics, construction, mining, manufacturing, etc. The curriculum of VET courses is jointly developed by the government and the industry. The assessment will be conducted based on exams, assignments, attendance, participation and practical skill tests. Upon completion of vocational training in Australia, students will receive a certificate or Diploma.
University Education in Australia
The research and teaching methodology followed by Australian Universities puts them on a global map consistently. The education and qualifications offered by Australian Universities prepare the student to excel in work environments on par with global standards. If you are a student who aspires to study in Australia, you can be assured that you will be a prized asset for potential employers irrespective of where you choose to work. 
The degrees and courses offered in Australia accommodate work experience programs and internships that help students gain hands on experience in the industry of their choice and to grow their network professionally while studying. The universities are equipped to educate students on practical skills and theoretical knowledge in order to help them stay ahead in the fast-changing world that we live in today.  The Australian education system also encourages students to stay creative irrespective of the discipline they choose. Most Australian universities offer state of the art campuses geared with many modern facilities while offering students varied options at UG and PG levels to choose from.
Research opportunities in Australia
Australian universities work closely with government, industries and research institutes to foster major global research partnerships, investment in research and the commercialization of technologies. The R&D sector in Australia has made a significant impact on the world. Excellence in Research Australia (ERA) rankings confirm that each of the 43 universities in Australia is either 'world-leading' or 'world-class' in at least one research domain. New industries, products and services are being developed as a result of various Australian university researches. In the last few decades, researchers in Australia have collaborated with global researchers to develop innovative products and services across many industries like healthcare, agriculture, environmental science, biotechnology, and more. 
The academic year in Australia
The academic year in Australia will vary depending on the level of study and course you are enrolling in. While the academic year for secondary or high school systems in Australia begins each year in January or February, for universities and VET courses it begins by the end of February/early March. Universities do offer addition intakes during the second half of the year in the months of July, September and October as well but not all the courses will be made available. Universities and vocational colleges normally have 2 semesters and the schools will have 4 terms. Exams are usually held at the end of each semester. The students will get 2 to 4 weeks break between each semester. The summer break usually starts from late November or December and extends till late February. Students can choose to enroll in a short summer course during their long holidays or choose to work full time. 
Course Fees and Student Scholarships
With affordable course fees and living expenses, Australia offers great academic opportunities for foreign students. Applicants can get up to 75% reduction in the course fee, monthly stipend throughout their study time in Australia and also receive free accommodation for their first year of study through various university scholarships. If you prefer to live off-campus, you can find a range of pocket-friendly accommodation facilities like homestays, guesthouses, hostels and shared apartments. Living costs and tuition fee in Australia are less compared to many other countries like the USA and the UK. International students are eligible to work part-time during their studies in Australia, making it easy for them to manage their daily expenses. Studying in a tertiary educational institution the average tuition fee can range from AUD 20,000 – AUD 30,000 per annum. 
Education pathways for students
If you do not meet the entry criteria for a particular course or university, you can enroll for a pathway program or foundation course. These pathway courses can involve studying in a secondary school in Australia, Vocational training facility or University Pathway Colleges located within the university campus. Foundation courses or pathway programs will help to gain the skills and knowledge required to begin your undergraduate or post-graduate course at a university. These courses are divided into various streams like business studies, science, language and elective subjects. Students can choose their pathway programs in Australia depending on their previous education qualification and the course that they wish to pursue. 
Post-education life in Australia
Australia has a very strong economy and offers excellent post-study employment opportunities for international students. Tertiary education qualification from Australia is highly regarded by employers across the globe. The unemployment rate in Australia is very low as compared to many other foreign countries. International students in Australia can avail a stay back period of up to 5 years upon graduation. If you have completed a Bachelor's degree, Master's degree or Doctorate, you may be eligible for the Post-Study Work Stream of the Temporary Graduate (subclass 485) visa. This will allow you to stay in Australia following your studies and gain practical work experience in your chosen field. 
Studying in a university in Australia offers the student a secure and promising career. According to a survey, more than nine out of 10 university graduates in Australia are in full-time jobs three years after graduating and they have experienced a steady growth in their salary. A starting salary of approximately AU$58,700 (US$39,500) can be expected and a growth of up to AU$72,800 (US$49,000) can be expected just three years after joining work.  Data released by Government also claims that graduate unemployment rate is just 3.3%, which is well below the national average of 5.3%
Statistics show that 90.1% of the students who have graduated in 2016 have secured full time jobs by 2019. The results are better in postgraduate coursework degree, where 86% of them have secured full time jobs within four months of graduating and 93% have gotten ideal jobs within three years.
We hope that this article has given you a fair understanding of the education system in Australia. If you wish to begin your higher education in Australia, you can avail a free counselling session with our expert education counsellor.  

Get All Your Concerns Addressed
Interact With Our Expert Student Councellors Today