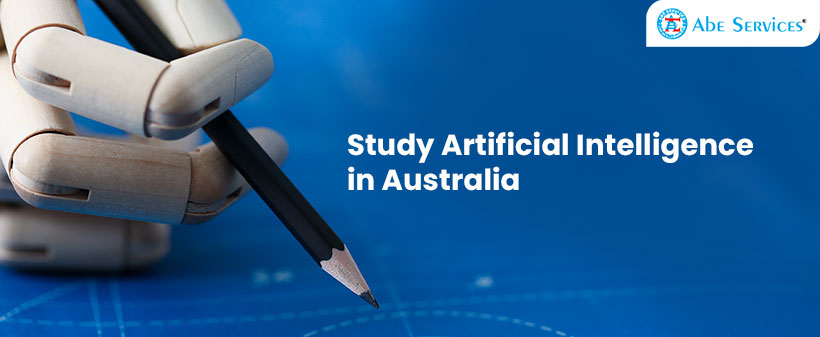 Everything About Studying Artificial Intelligence in Australia
Are you planning to do a  degree in Artificial Intelligence in Australia? If yes, here is what you should know about the industry and the career scope you'll be having.
Artificial Intelligence or AI has touched almost all areas of our lives. It is already making our lives simpler and even saving them.
What is Artificial Intelligence?
To make it simple, Artificial Intelligence is a branch of computer science where machines learn and make decisions as we humans do. Machine learning is one of the methods by which machines analyse data and make decisions. 
We are using AI in almost everything we do on a daily basis. Smart assistants on your phone like Siri, Alexa and Google Assistant are just the beginning. The recommendations you get on YouTube, Netflix and Spotify are all based on AI-based algorithms. Here are some of the industries that will use this technology extensively in the coming years. 
AI In Science and Research   
AI can be used to process large quantities of data faster than humans. This can be very useful while dealing with research that requires huge data sources. Thanks to AI, we are now able to speed up the research process considerably. For example, there has been extensive use of AI in the research for a vaccine against COVID-19. Without the speed and efficiency of these machines and algorithms, we wouldn't have been able to have the vaccines this fast. 
AI in Healthcare 
We are making extensive use of AI in healthcare and the scope of AI in this field is only going to increase. For example, AI can help in reducing medical costs by preventing diseases beforehand and helping doctors in making better diagnoses. We can see some pretty amazing innovations in this field in the coming years.
 AI in Cyber Security 
More and more companies are now relying on cloud technologies and are keeping their data in the cloud. Cybersecurity is a very important field and AI is already making huge advances in this sphere.

Another area where AI is going to shine is in fraud detection. They can analyse huge amounts of data and identify fraud in seconds and thus saving a huge amount of money and resources. 
AI in Transport 
Machines have already learned to drive. We will be seeing a lot of self-driving cars and vehicles in the future and AI is at the core of it all. This will have a lot of benefits as these systems will have no room for human error. Forget about accidents that occur due to drunken driving.
Amazon is already experimenting with door to door delivery of goods with the help of drones.  
Banking 
Chatbots, automatic fraud detection systems and other AI technologies are going to make the banking industry safer and more convenient. 
Sports
With the help of artificial intelligence, athletes and sports persons can analyse their performance and improve them. 
Agriculture 
Making use of robotics, crop monitoring and predictive analysis in agriculture is not something that is considered to be futuristic anymore. AI is going to play a very significant role in agriculture in the coming years. 
Homes 
Nowadays, we use AI systems in our homes. Siri, Alexa, Google Assistant and Cortana are examples of AI systems. You can now order groceries, play music, ask to take notes, set reminders and even control your electrical and electronic devices using voice commands. 
Where to study Artificial Intelligence in Australia?
There are a lot of universities that offer courses in Artificial Intelligence, Machine Learning and Data Analytics. Here are a few of them. 
AI as a career 
There are a number of career options based on your interests and capabilities. These include, 
 AI analysts and developers

 AI engineers and scientists

AI researchers

AI algorithm specialist

Robotics expert

 Military and aviation experts

Maintenance and mechanical engineers

Surgical AI technicians and many more.      

Data Scientists

AI Technology Software Engineers

AI Product Managers

AI Ethicist

AI Architects         

                        
There are a lot of jobs being created in this field. According to Forbes, AI will create 58 million new jobs by 2022. The pandemic is only going to speed up the process. Australia is one of the first and leading countries adopting AI, which will make a career in artificial intelligence highly rewarding. 
A person with skills in AI currently earns an average remuneration of AUD 111,021 in Australia. This is expected to go higher as there is a lack of qualified professionals in the market.
Why Study Masters in Artificial Intelligence in Australia? 
Top universities in the world- Australia has some of the top universities in the world and have cutting edge technologies. The quality of the education you get here will be the best in the world. In addition to that, an educational qualification from an Australian University is widely respected all around the world. 
Global Recognition: Most courses being offered in the field of Artificial Intelligence are accredited by the Australian Computer Society (ACS). The Australian Computer Society is the largest professional body in the country in the Information and Communications Technology sector. This body only provides accreditation to those universities after rigorous evaluation of their curriculum and teaching standard to ensure that graduates are well-equipped with the required knowledge and skills in the ICT sector. 
Hands-on experience- Most universities offer internships in related companies. This will allow you to gain valuable industry experience while you study. 
Easy Admissions– The admission process in most Australian universities for a master degree is straightforward. 
Jobs- The future of AI looks bright. In the coming years, a lot of new jobs in the artificial intelligence industry will be created. These jobs need skilled professionals with a good understanding of the subject and technology they are dealing with. 
If you are looking for a Master's degree in artificial intelligence from a leading Australian university, get in touch with the expert counsellors at Abe Services to get all the relevant information you need. 

Get All Your Concerns Addressed
Interact With Our Expert Student Councellors Today