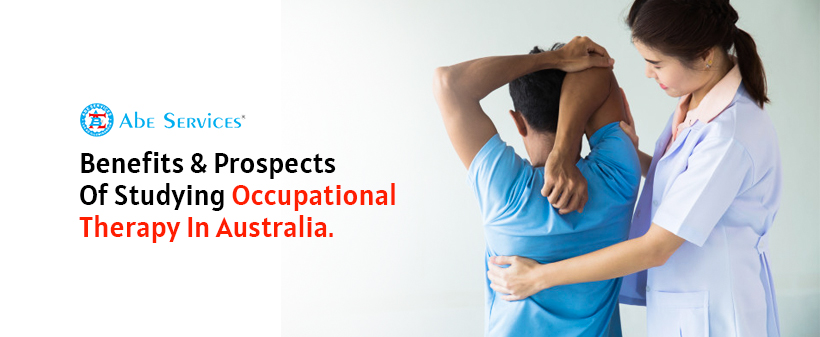 Benefits & Prospects Of Studying Occupational Therapy In Australia
Have you always aspired to help people lead a more meaningful and wholesome life? If the answer is yes, then you must consider studying Occupational Therapy In Australia. Occupational therapists evaluate the functional limitations of people who are subjected to illnesses and disabilities, and provide them with suitable therapy in order to undertake their day to day activities with ease. A degree in occupational therapy is essential to take up this profession. There are also postgraduate programs pertaining to this particular field of work, that interested individuals can pursue. In order to understand the role of an occupational therapist, here are some of the tasks that need to be performed by the said professional:
– Evaluating a client's functional potential in their routine and in their natural environment to enhance their performance. Understanding the performance of the client at their workplace, home, etc. will help the therapist understand the true standing of their client.
– Studying a client's emotional, psychological, developmental and physical capabilities with the help of clinical observations and standardized tests to further understand their clients.
– To plan and organize programs in the form of vocational, recreational, remedial, social and educational activities both for an individual and as group activities.
– Offering advice to different individuals who may be in contact with the client. This includes family members, employers, teachers, etc. Helping them understand the clients' needs while also creating a comfortable environment for the client in his workplace, school or wherever he may be spending time at.
– Occupational therapists also provide adaptive equipment such as wheelchairs and splints in order to help the clients overcome their functional limitations.
– They also work closely with other Health Professionals to assist in the overall management of the clients' health and well-being.
– Occupational therapists also provide specialist advice along with other professionals to specific client groups or to individuals. They also offer medico-legal representation by providing the recordings of the clients' progress. This is done as per the relevant legal requirements and under ethical guidelines.
Growth potential
This industry has seen a strong growth potential in the past couple of years as it has become imperative to work closely with different individuals who may have undergone an accident or are subjected to illness. There has been an under average rate of unemployment amongst occupational therapists, and one can take up jobs in domains like Health Care, Social Assistance, Public Administration and Safety, Education and Training, etc. An average pay of around $1569 per week can be expected, this being applicable to full-time non-managerial employees with experience. While 2018 saw a need for about 18,000 employees, by 2022, the requirement is expected to reach around 21,000 employees. It is believed that there will be around 7,000 job openings over the next 5 years for occupational therapists across the diverse domains mentioned above.
Knowledge & Skills Required
Employers often seek occupational therapists who are mature, efficient, professional and are geared to tackles problems with ease. Apart from being compassionate and empathetic towards their clients', here are some aspects that one must be well versed with, in order to do well as an occupational therapist:
– Psychology
Understanding and evaluating the human behavior, understanding one's abilities, their personality and interests are important. They must be able to learn while motivating their client to do better. They should be well aware of different methods of research, assessing and treating disorders.
-Education and training
They should be well aware of formulating a curriculum and training. They should be open to teaching and to provide necessary instructions to individuals and groups, while also being able to gauge the impact of the training.
– Therapy and counseling
They should be adept at diagnosis, treatment, and rehabilitation of the various physical and mental dysfunctions that they might encounter in their clients'. They should also be able to provide career counseling and offer guidance to their clients'.
– Customer and personal service
An occupational therapist must understand the needs of their clients and provide them with good quality service. This reflects in the customer satisfaction and how well they have managed to tackle their problems.
– English language
It is not only important to speak fluently, but one must be efficient in the spelling of words, adhering to the rules of composition, and grammar.
Career Opportunities For Occupational Therapists:
By studying Occupational Therapy In Australia, you are sure to open doors to a lot of opportunities to work closely with people in order to help them lead a meaningful life. Some of the opportunities that you encounter as an occupational therapist are listed below:
– Mental health
Occupational therapists work closely with those who have experienced harsh circumstances that may impact their day to day existence. Domestic abuse, loss of loved ones, substance abuse, etc. can be some of the issues that one might encounter while working in this field.
– Community health
OTs can work with individuals living in a community like old age homes, hospice, etc. in order to help them engage and participate in varied activities to make them feel more comfortable and happy.
– Paediatric
One can work closely with children and adolescents to create programs and curriculum that help them in their overall development.
These are just a few areas that you can choose to work in. One can also choose to focus on specific groups like disabilities, autism, leadership and management, NDIS, etc. depending on their inclinations and interest.
Geographical locations:
This medium-sized occupation has a lot of demand across Australia. With an average age of employees being 34 years, occupational therapists find themselves in demand across varied domains in both cities and small towns in Australia. Studies show that New South Wales has the highest demand for OTs followed by Victoria, Queensland and Western Australia.
Work Environment:
By now, you must have a fair idea that working as an occupational therapist requires you to work extensively with people, for their benefit. One will have to constantly engage in conversations in order to understand the needs and shortcomings of their clients'. They have to work on documenting their cases while also analyzing them for the best solutions. One must be comfortable with working indoors, engaging in virtual and physical communication with clients' and other professionals with whom they may have to work as a team.
By choosing to become an occupational therapist, one can truly enjoy a career of growth, success and gratification. It is one of the most sought after courses, and choosing to study the same in one of the leading universities in Australia can help you carve a career that you have always aspired for. If you wish to know more about the best Universities to study occupational therapy at, and if you are interested to learn more about the course, the procedure to apply, etc. feel free to reach us. Our expert counselors will help you soar higher towards greater success.

Get All Your Concerns Addressed
Interact With Our Expert Student Councellors Today