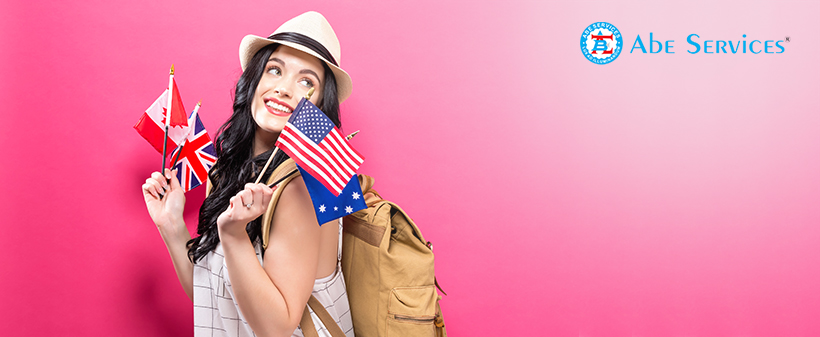 Top 5 Study Abroad Countries in the World
If you are a student who is aspiring to study abroad, the first question that comes to your mind will be about the country to choose. This article lists the top 5 countries to study abroad for Indian students. Read on to get a fair idea about the different perks of studying in these countries.
United States of America
The USA has been on the radar of aspiring students for a long time now owing to many factors. This country is home to many premier educational institutions in the world, making it a much-preferred choice for students from around the world. At least 5 universities in America come under the top 10 of the QS World University rankings, and over 30 of them are in the top 100. This English speaking country offers one an opportunity to enjoy a modern life while gaining exposure to different cultures and ideas. The education system in the USA is considered one of the best in the world, making it a popular choice amongst international students.
Studying in the USA opens doors to greater avenues for students and helps them embark on a journey that they have always envisioned for themselves. There are many Undergraduate, Post-Graduate and PhD courses available in this country along with many other short-term diploma courses that students can pursue based on their merit and financial capacity. Different states in the USA have different costs of living, varying tuition fees and scholarships, thus giving students the options to choose what suits them the best. Studying in such globally reputed institutions will help you escalate your career to a higher level.
Canada
Canada has become a favorite choice amongst students who wish to study abroad owing to many factors. According to QS World University rankings, Toronto, Montreal and Vancouver made it to the top 50 student cities in the world. The people here are friendly, and the cost of living is relatively lesser than in other countries. The immigration and citizenship laws are comparatively much more relaxed in this country.
The education system in Canada is considered one of the best in the world. You will get ample opportunities to brush up your language skills as French and English are two major languages included in Canada's educational system. The system encourages students to develop skills like teamwork, communication, creative thinking, etc. Canadian diploma courses are globally recognized and UG & PG courses in Biotechnology, Animation, Hospitality, Engineering, Environmental studies, etc. are widely chosen by Indian students.
Studying in Canada gives you an excellent opportunity to boost your prospects for a promising career. The Canadian government offers a work program for students who have obtained a diploma. This means that you have more chances of finding a career in Canada after your education. If you are looking for the best country to study abroad for Indian Students, then considering Canada will be a wise decision. One can enjoy a modern lifestyle and expand their horizon in the safe confines of this beautiful country.
New Zealand
New Zealand is another destination that's making its mark amongst aspiring students who wish to pursue education abroad. It has been observed that there has been a 400% increase in the number of Indian students taking admission in universities and colleges here in the last five years. 8 of the leading universities in New Zealand are ranked in the QS World University Rankings making them all highly coveted options for students who wish to study abroad. Studying in New Zealand offers a modern yet peaceful lifestyle amidst stunning landscapes, thus making it a top favorite amongst students. The visa norms and procurement of work visas are relatively easier, which further adds to the appeal of this country.
Courses in subjects like horticulture, dairy technology, forensic science, marine engineering, geothermal energy, etc. are popularly chosen by students. Lincoln University, The University of Auckland, The University of Otago, AUT University, etc are some of the most famous universities in New Zealand. A secure environment, good learning arenas, world-class infrastructure, and advanced training facilities at affordable rates are the main highlights of this country.
Australia
Australia is one of the top student-friendly destinations in the world. Owing to the easy visa application procedures for Asian students and the presence of globally recognized universities contribute to the growing popularity of Australia as one of the most preferred countries to study abroad. Amongst the many institutions here, close to 37 of them are included in the latest QS World University Rankings. Curtin University, DEAKIN University, James Cook University, University of South Australia, University of Canberra, University of Wollongong, University of Adelaide, etc are some of the top universities in Australia which are also highly recommended globally.
The country is safe for students and offers great opportunities to interact with different people due to different ethnicities from around the world living here. If you choose to study in Australia, you can enjoy living in a multicultural environment, with access to top-notch facilities and abundant natural bounty. Studying in Australia helps you to gain extensive exposure in academics that will, in turn, help you land a dream job. Owing to these factors and excellent work opportunities post-education, Australia is considered one of the best countries to study abroad for Indian students.
United Kingdom
The United Kingdom has been recognized as a seat for excellent education for many centuries. Home to many legendary academicians and exemplary universities, studying in UK is a dream come true for many.
Middlesex University London, University of Greenwich, Cardiff Metropolitan University, Queen Mary University of London, Kingston University London, University of Stirling, University of Derby, etc. are some of the finest educational institutions in the UK. Many institutions here come under the top 10 of the QS World University Rankings. Studying in highly reputed institutions like these will help a student soar higher.
Being a country lush with diverse cultures and natural beauty, the UK attracts a good number of students from across the world. Apart from that, many universities in the UK offer globally recognized 1-year Masters / M.Sc PG programs which means that students can save time and cost. As per the recent revision in UK student visa norms, international students can expect to have a 2-year stay-back period option after completing their degree. This is good news for the students as this will help them explore promising job opportunities in the country.
These are considered as the top five academic destinations in the world. We hope that this list has helped you to understand the various benefits of studying in these countries.
If you need help securing admission in foreign universities, we at Abe services will be glad to help you with the procedures. Contact us at +91-9846810310

Get All Your Concerns Addressed
Interact With Our Expert Student Councellors Today