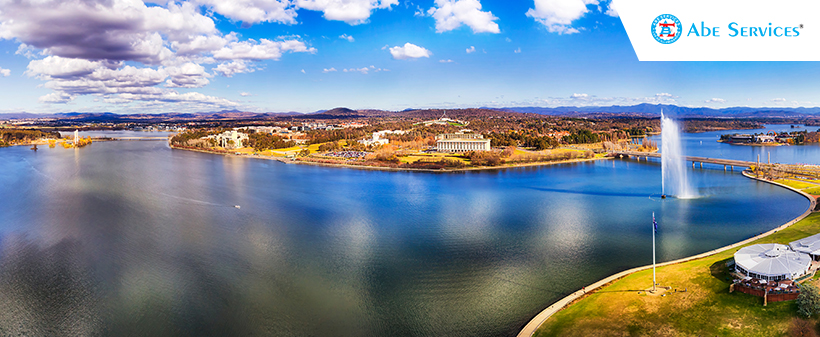 Why Study in Canberra? Study in the Australian Capital Territory in 2020
If you are wondering which is the best Australian city for international students, then look no further as Canberra is a perfect choice. Canberra, the national capital of Australia is home to various world-class educational institutions and research centres, making it one of the choicest cities for international students. The city welcomes thousands of students from all parts of the world, creating a vibrant multicultural ambiance. Canberra was ranked 23rd in the world in the 2019 QS Best Student City Rankings.
So why study in Canberra? Here are the top reasons why you should choose to study in Canberra, Australia.
1. Australian Capital Territory
2. Most liveable place in the country
3. Most Educated city in Australia
4. Safe city with low crime rates
5. Clean & sustainable living
6. Multicultural vibe
7. Many options for leisure & entertainment
8. Good connectivity
9. Huge employment opportunities
10. Plenty of on-campus accommodation
Now let us discuss the above points in detail:
1. Australian Capital Territory
Canberra is located in the Australian Capital Territory (ACT), a federal territory of Australia. Being the seat of the government, Canberra houses many prominent national monuments like Parliament House, High Court, National Museum, National Library, etc. The city is well-planned and features an artificial lake and roads fanning out from Parliament House.
2. Most liveable place in the country
According to Daily Mail, a British newspaper daily, Canberra is ranked as the most liveable place in the country. It has been rated as the best place to live in Australia 3rd year in a row.
Canberra is an inland city and is the only Australian territory or state that is not near the coast. Moreover, Canberra offers a high standard of living at affordable cost, making it a highly attractive destination for international students.
3. Most Educated city in Australia
Canberra is termed as the most educated city in Australia as it owns a large university sector. The city has a higher percentage of literates compared to other parts. Approximately 25% of the population are students. Owing to the presence of world-class universities and training institutions, the city offers excellent educational opportunities for international candidates. The University of Canberra and Australian Catholic University are among the top-ranked universities in Australia. Graduates who complete their education from these institutions can avail up to 3 years stay-back period.
4. Safe city with low crime rates
It is reported that Canberra has the lowest crime rates compared to other cities in Australia. Even international students feel safe going out for leisure activities and exploring places nearby. As the city houses many government institutions, life is more secure for residents in Canberra.?
5. Clean & sustainable living
Canberra is one of the few well-planned cities in the world, which is clean and sustainable. Plastic bags of less than 35 microns are banned in the city. The traffic is very less and the air is clean and pollution-free, making it a very comfortable place to live in. The city skyline is surrounded by lush green mountains, farmlands and forests. Approximately 53% of the total area of the city is covered with nature reserves and parks.
6. Multicultural vibe
The name of the city has been derived from "Canberry" which means a 'meeting place'. True to its meaning, Canberra owns a vibrant multicultural vibe with around 1/4 of the population born overseas. Each year the city celebrates the 3 – day National Multicultural Festival which is one of the biggest cultural diversity events in Australia. The presence of thriving nightlife, bars, and clubs makes it easy for foreign students to socialize and mingle with the community.
7. Many options for leisure & entertainment
While you are in Canberra, you will never fall short of things to do for the city plays host to various entertainment and sporting events. The city always has something to offer for every type of person. If you are a foodie, you can have fun exploring the fresh food markets, restaurants and breweries. Within the city you can find art galleries, libraries, museums, nature trails and stunning monuments. The tranquil Lake Burley Griffin is a great place to spend an evening or ride a bike. If you are a nature lover then you can always head to the mountains or natural reserves which are easily accessible from the city.
8. Good connectivity
Canberra is just a 3 hours' drive away from Sydney. It is a well-connected city with direct flights to all Australian cities and a few other international destinations. Canberra is a cycle-friendly city that offers plenty of bike-friendly cafes and bicycle hire venues. International students can easily find accommodations close to the university or choose to stay a little far without worrying about the commute. Choosing to ride a cycle will also let you save fuel costs. The city has relatively less traffic compared to other bigger cities in Australia.
9. Huge employment opportunities
The universities in Canberra possess great global reputation and due to this reason, the students who complete their education from Canberra get high recognition from employers across the world. They get a chance to explore a wide range of promising job opportunities after their graduation or post-graduation. Canberra is a friendly city which welcomes people from other countries and thus international students can expect to get exciting career opportunities in both the public and private sectors. Most of the graduates who study in Canberra successfully make it to a bright career with high starting salaries.
10. Plenty of on-campus accommodation
Canberra has plenty of on-campus accommodation facilities than any other city in Australia. 90% of undergraduate students in Canberra are likely to find guaranteed accommodation in the respective university campuses. These universities offer facilities at par with world-class standards. Most of the students who come from India and other countries find it easy and convenient to settle down in Canberra.
We hope that this article about the perks of studying in Canberra was helpful for you. If you are ready to experience life in Canberra by joining a leading university, get in touch with our expert counsellors. We can help you find the right course and guide you through the application procedure.

Get All Your Concerns Addressed
Interact With Our Expert Student Councellors Today