Why You Should Consider Studying Physiotherapy In Australia
Why You Should Consider Studying Physiotherapy In Australia
Many an often, due to accidents, age or other physical ailments, the mobility of an individual's body is compromised. Physiotherapy is a process that helps patients regain mobility and restore normal functioning of their body with the help of exercise, massages, etc. that are performed by an expert. Many doctors and specialists seek the help of well experienced and skilled physiotherapists in order to help their patients. By studying physiotherapy in Australia, you can equip yourself with knowledge and expertise to take care of patients who may be suffering from a range of medical conditions. There are also specialised degrees, diplomas and higher qualifications that will help you excel in your field of interest. Aquatic Physiotherapist, Cardiothoracic Physiotherapist, Continence and Women's Health Physiotherapist, Gerontological Physiotherapist, Musculoskeletal Physiotherapist are some of the many specialisations that you can pursue based on your interest. In order to delve deeper into the nature of work that you will undertake as a physiotherapist, we list below some of the tasks that you need to perform.
• Identification and assessment of the different muscle, nerve and joint conditions that may be prevalent in the patient, and finding a relevant course of action to treat the same.
• You will help the patients in strengthening their muscles, enhancing their circulation, reducing pain, etc. You can also help patients with cardiovascular and respiratory functions while also improving balance and coordination based on their requirements.
• Working with different healthcare professionals and consulting with experts in order to address the problems, needs and the progress of patients.
• Understanding the different therapeutic properties of exercise, heat, cold, massage, etc and using relevant combinations of treatments to help a patient regain health and fitness.
• As their therapist, you will have to review, monitor and assess the programs and treatments undertaken by your patients and also provide instructions to the patient and their families about the procedures that they must continue at home.
Growth potential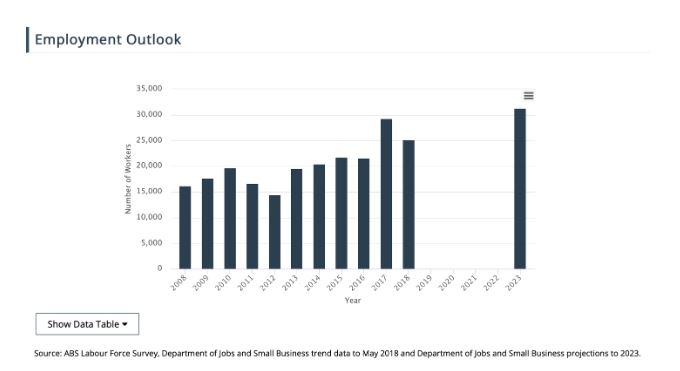 The industry has witnessed a rapid growth over the past five years and is expected to show promising growth in times to come. This is a large scale occupation and has shown below average unemployment in 2018. From 25,000 jobs in 2018, the number of jobs is predicted to reach about 31,200 by 2023. By pursuing Physiotherapy courses in Australia, one can enjoy a promising growth in their career while also having an opportunity to help people lead a healthy life. As a physiotherapist, one can work in the healthcare sector, while also finding job opportunities in public administration and safety, education and training, art and recreation amongst other domains. It is predicted that there will be around 13,000 job openings over the next 5 years. This profession demands one to work full time where the employee can expect an average pay of $1,444 per week, with a steady growth as per their experience and skills.
Knowledge & Skills Required
If you are keen on studying physiotherapy in Australia, you must be equipped to work with people closely. Compassion, empathy and patience are some of the qualities that make a good physiotherapist. Having knowledge in the following topics will further help you in functioning as an efficient professional:
• Customer and personal care
As a physiotherapist, you must be understanding towards the needs of the patient, and to provide solutions that will be effective in treating their ailments.
• Therapy and counselling
You must be able to diagnose and treat the varied physical and mental conditions that your patient might be suffering from while offering counselling and guidance pertaining to the same.
• Diagnosis and care
You must be able to take care of human injuries and deformities while offering preventive measures for the same.
• Education and training
Providing training, giving instructions to groups or individuals and drawing up curriculums is a part of the job of a physiotherapist, hence one must be adept in educating and training individuals.
• Language
As this job profile requires one to interact personally with their client while working as a team with fellow professionals, it is essential to be well versed in English. Having command over good written and verbal skills is a must to help a physiotherapist do his or her job efficiently.
Career Opportunities For physiotherapists
Studying physiotherapy in Australia will open doors to a career that is a fine balance of growth and service. You get to work closely with individuals suffering with varied ailments in order to restore their health. There are diverse workplaces and opportunities that you can choose that suit your expertise the best, some of which are listed below:
• Healthcare and social assistance
This is the most frequently chosen domain by most physiotherapists. Individuals get to work closely with fellow medical professionals and experts in order to help patients overcome their physical dysfunctions. Physiotherapists offer suitable treatments to individuals who might be suffering due to any physical injuries or age related ailments.
• Public administration and safety
You could also work in the public administration and safety department to ensure safety and well-being of individuals who you may get in touch with.
• Education and training
Physiotherapists are often in great demand when it comes to sports training, educational institutions, etc. They offer instant aid and solutions to students who may have encountered on-field injuries. They are the first point of contact who will help in the diagnosis of the condition.
• Arts and recreational services
As a physiotherapist, you can also find employment in places like spas, recreational healthcare centres, gyms, etc. Providing instant aid and solutions to clients for any ailments or physical dysfunctions is a part of the job profile.
Geographical locations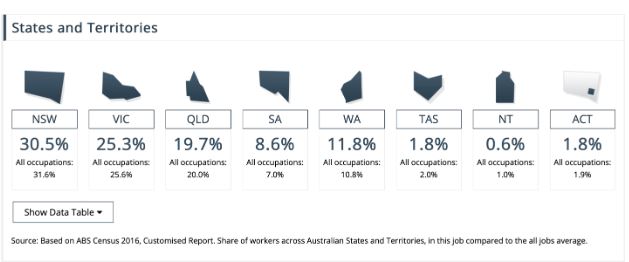 There is a constant demand for well trained and skilful physiotherapists throughout Australia. However, New South Wales leads with the highest percentage of demand for the said professionals. One can also find abundant opportunities in other parts of Australia like Victoria and Queensland.
Work Environment
Being a physiotherapist is mostly an indoor job that requires individuals to work closely with their patients. Not only does the therapist have one on one discussion with their clients, they will have to work closely to help them do exercises or offer massages based on the condition of the client. Hence, one must be comfortable to work in close quarters with their patient. Apart from this, the individual must be medically adept, and should be willing to work as a team with fellow medical professionals for the wellbeing of their patients.
We hope that the comprehensive information provided above gives you a clear picture of what you can expect if you embark on the journey of being a physiotherapist. It is a great profession that will help you work for the betterment of those suffering while enjoying a career that is rewarding in all aspects. Our team of experienced counsellors at Abe Services will help you with any information that you may need pertaining to studying physiotherapy in Australia. Contact us now to embark on a journey to a greater life.

Get All Your Concerns Addressed
Interact With Our Expert Student Councellors Today