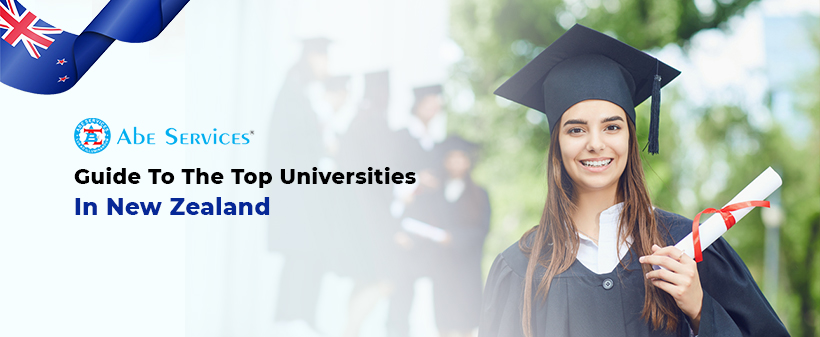 Your Guide To The Top Universities In New Zealand
Studying abroad is a dream harboured by many. But many a times due to lack of information or guidance, one is unable to fulfil this aspiration. Gone are the days when we had just a handful of choices that were often out of our reach. Today, there are some fantastic study destinations that offer great courses that will propel you towards a successful career.
New Zealand is one such destination which offers international students a great platform to not only study a course of their liking, but to also experience a life on par with global standards. Lush with natural resources, stunning landscapes and home to some of the best Universities, New Zealand is the perfect destination those who wish to gain world class education without burning a hole in one's pocket.
Friendly people, modern amenities, scholarships and many other opportunities to learn and grow await aspiring students who embark on their educational sojourn here. Courses and the curriculum offered by the Universities in New Zealand equip one to become an asset for employers across the globe. Educational professionals in New Zealand are believed to be 4th most professional in the world, which ensures that students get the finest quality of education in enviable campuses that are home to many facilities ideal for varied levels of education.
In order to help you make more informed decisions, we have rounded up a list of top Universities in New Zealand. The Universities listed below are considered amongst the top 500 in the world according to the QS World University Rankings.
University of Auckland
University of Auckland is one of the top universities in New Zealand. Diversity, research driven facilities and innovation are the factors that make this university a leader amongst its contemporaries. It is ranked at the 83rd spot by the 2020 QS ranking of World Universities thus making University of Auckland a favourite amongst aspiring students from across the world. With campuses present across Auckland, one can choose to study a course of their liking at undergraduate and postgraduate or PhD levels. Cutting edge technological researches that the university undertakes offers a great platform for students, especially to research scholars to upscale their academic knowledge. 25 per cent of all research-related staff in the country and 35 per cent of the top A-rated academic researchers are from the University of Auckland which goes on to show the quality of education and facilities offered by the University.
This University has recently been awarded a grant of NZD 10 million for Data Science research from the New Zealand Ministry of Business, Innovation and Employment Strategic Science Investment Fund. With so many opportunities to excel, and diverse courses in both conventional and unconventional domains, one is truly spoilt for choice.
University of Otago
Ranked number one for its educational performance, The university has achieved the Prime Minister's Supreme Award for Teaching Excellence for six out of eight years. University of Otago accommodates more than 3000 Students from across 100 countries. With over 200 courses to choose from with flagship multidisciplinary research centres and outstanding research themes, this University is one of the top universities in New Zealand for more reasons than one. It ranks among the world's top one percent of universities and is endowed with a five star plus rating according to the QS global university performance ratings. The university's main campus is located in Dunedin where the majority of learning takes place, with specialist campuses located in Wellington, Christchurch and Invercargill. Globally recognised for its teaching quality, University of Otago offers both academic excellence and outstanding student experience.
The university offers a number of scholarships, bursaries, grants and fellowships to deserving candidates. They also offer a pathway for international students to meet the entrance requirements for both undergraduate and postgraduate study. The University of Otago Language Centre and Foundation Year (UOLCFY) provides preparation for academic study which aims to help international students achieve their dream of studying in this University. The graduates from this University are considered a prized addition to any organization, and you too can study in this esteemed college and become a success story.
Auckland University of Technology (AUT)
AUT is ranked as the best university in New Zealand for its global research impact and is also ranked as one among the top 60 young universities worldwide. The university welcomes over 5,000 international students from 140 countries who have the opportunity to choose from over 250 courses. It is ranked no.1 in New Zealand for its global outlook and is the second largest University in the Country. It has three campuses across Auckland and has over 60 research institutes and centres addressing social and environmental issues, and discoveries made by the university are extensively used here. It is listed among the top one per cent of universities in the world, and this can be credited to the creative and supportive learning environment which also makes AUT one of the most diverse and fastest-growing universities in the Country.
With an excellent selection of experts enrolled as educators, AUT offers exceptional education quality that has helped the university gain a global reputation. The University offers a modern, interactive and creative environment for students to flourish in.
University of Canterbury
Ranked in the top 1% of universities worldwide, University of Canterbury has received a 5-Star QS rating for its exceptional research and teaching methods. It is also listed amongst the world's top 250 Universities owing to multiple factors like excellent educational facilities, unmatched quality of education etc. One can choose from a wide range courses at different levels and can also enjoy being a member of over a 100 student run clubs at the campus. The amazing sports facilities and the clubs managed by the students are a unique attribute that set this University apart. The campus is Christchurch gives one an opportunity to lead an exciting life close to nature, while enjoying a plethora of world class amenities and facilities. UC has partnered with more than 60 different institutions in Asia, North America, Europe, as well as Australia and has diverse ethnicities from around the world as their students, thus making it a melting pot of diverse beliefs and cultures.
One can also apply for scholarships and grants that are offered by the University that will help the financial burden that often comes with studying abroad. With special emphasis on the safety of the students, this university is the perfect option for those who have multiple interests and wish to grow along diverse tangents for wholesome growth and development. UC sure has some interesting opportunities for students who wish to not only excel academically but for those who wish to succeed in parallel domains too.
Lincoln University
The Lincoln University has had the distinction of being placed at the 12th spot in the list of the best small Universities in the world by the QS World University Rankings 2017/18. Almost 3500 Students from over 60 countries have chosen to fulfil their dreams of studying abroad by opting to pursue their higher education at the Lincoln University. The University offers a perfect balance of academics and a wholesome student life due to which, graduates from this university have a 15% higher employment rate as compared to students from other universities in New Zealand. Lincoln University shares ties with leading organisations as well as research centres as this gives the students an opportunity to gain additional skills and knowledge through practical learning. Their sustainable approach and commitment to create a positive impact on the world draws a lot of students who wish to embark on this path.
They also offer a foundation program that is fast and flexible. This unique program helps students save up to a year's expenses which would otherwise be invested in the education and the wellbeing of the student. With diverse courses offered at graduate, postgraduate and PhD levels, studying at the Lincoln University will also give you access to some of the best facilities. A lush campus, well stocked libraries and modern labs and many other facilities make this a sought after choice of students from around the world.
Massey University
Massey University offers a range of courses at foundation, graduate, postgraduate and PhD levels and is placed at the 287th spot by the 2020QS World University Rankings. With a well-established reputation for excellent quality of education, Massey University has three campuses that have over 5000 international students from around the world. They have won several National Tertiary Teaching Excellence Awards, including the Prime Minister's Supreme Award which exhibits the fine prowess of the experts who teach here. The University also boasts of a rich history and academic distinction due to which a lot of students wish to study here. They undertake research and learning that is creating new avenues and they aim to create outputs that generate a positive impact on the world.
This university also offers a strong support system to students for their wholesome wellbeing. They give utmost importance to the safety of their students while also offering them an opportunity to lead a healthy and meaningful life. Their health and counselling centre offers students a range of professional as well as confidential health services that help them take care of their overall health while preparing themselves to become an expert in their chosen field. They also offer career services that not only help them in choosing their careers, but also provide assistance in finding part time jobs internships, etc.
Victoria University of Wellington
Victoria University of Wellington is one of the 12 universities in the world to have been credited with the highest rating of 5+ stars according to the QS Stars Rating System 2019. It has also been endowed with five stars in each of the eight categories namely, arts and culture, discipline ranking and accreditations, employability, facilities, inclusiveness, internationalisation, research, and teaching. The university is over a century old and is one of the oldest tertiary institutions in the country. It has three central city campuses in Wellington which accommodate several schools, faculty and support service centres. It ranks as the no.1 university in New Zealand for its research intensity, and accommodates hundreds of research staff who work at the forefront of knowledge, including internationally renowned experts in their fields of interest. They have partnership and exchange programmes in the industry which offer a wonderful learning experience to students. Innovative teaching methods, a flexible and creative environment that helps students to grow and flourish and the opportunity to learn from industry experts make the education here the finest in the world. One can also make the most of the career and employment teams who help the students achieve their goals.
With award-winning structures that house world class facilities, students who study here have an opportunity to lead a wholesome life with getting trained in the areas of their interest in the best possible ways.
University of Waikato
Ranked 72nd internationally for its research impact and quality, which places it among the top five per cent and at number one in New Zealand, University of Waikato sits at the 266th in the world according to the 2020 QS World University Rankings. Student Centre, Cyber Security Lab, Sports Science Lab along with excellent education and research facilities are what make this University one of the finest in the world. They boast of partnerships with many reputed universities around the world, which gives the student an opportunity to get high-quality, industry-aligned education. Their main campus is based in Hamilton, and has more than 60 student clubs that the students can opt to be a part of. They can also enjoy access to several activities and social events while getting trained by experts in the industry. This university offers a great platform for students to mingle with individuals from diverse backgrounds. The curriculum designed here aims to provide learning that prepares a student to face the real world. They offer an opportunity to students to transcend smoothly from a classroom to a workspace. Practical training, interactive educational environment and dedication to help students polish their skills and gain knowledge are some of the driving forces that make this University a great success. Ample career guidance and assistance is also provided to students to help them choose the right workplace and succeed in their chosen fields.
We hope that this list of all top universities in New Zealand has helped you learn a little more about them. Plenty of exciting opportunities to learn and excel await those who wish to study in New Zealand. Make the most of the time you have at your disposal right now and take the first step towards a brighter future. Our team of experts are here to help you make the right choice.

Get All Your Concerns Addressed
Interact With Our Expert Student Councellors Today