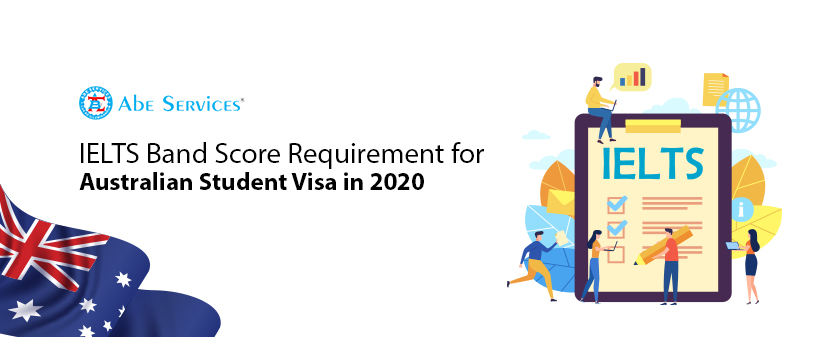 IELTS Band Score Requirement for Australian Student Visa in 2020
Australia is the 3rd most preferred destination in the world for higher education. Thousands of students from different parts of the globe fly to Australia to fulfill their dream of studying in a world-class university. With around 1,100 educational institutions offering close to 22,000 different courses, studying in Australia has become a dream for many aspiring students. If you are someone who wants to pursue your higher studies in Australia, you might be curious to know about the IELTS score requirement.
So, what is the IELTS band score required to get a student visa in Australia?
The required IELTS score for an Australian student visa varies based on the course chosen. For most medical-related courses it is 7.0 with no band less than 7.0. For bachelor's degree courses, it is 6.0 overall with no band less than 6.0. For Master's degree courses, it is 6.5 overall with no band less than 6.0. However, some universities accept a lower band score for certain courses.
IELTS stands for the International English Language Testing System. It is the most popular English language proficiency test for higher education and international migration accepted across the globe. IELTS score is recognized as a major entry criterion to join universities and educational institutions abroad. It is accepted in more than 140 countries including major destinations like Australia, United Kingdom, USA, New Zealand, Canada, etc. So, if you are planning to join a university in Australia or the UK, a good IELTS score can improve your chances of enrolment.
It is also one of the most popular tests accepted by countries like Australia, Canada, New Zealand and the UK for work visa and citizenship processing. More than 10,000 global organizations use the IELTS score to measure a candidate's English proficiency.
Every year, millions of candidates take this test to fulfill their dream of studying in foreign countries. IELTS test is jointly conducted by the British Council, IDP: IELTS Australia and Cambridge Assessment English.
Now we will discuss some of the key facts you should know about IELTS test.
The IELTS exam includes the following four modules.
Reading
Writing
Speaking
Listening
The test score is calculated based on a band system starting from Band 1 (non-user) to Band 9 (expert user). A Computer-delivered IELTS test system has been introduced in more than 20 countries.
There are two types of IELTS tests namely Academic and General Training. IELTS Academic is conducted to measure the English proficiency level needed for academics or higher studies whereas IELTS General Training is used to measure English proficiency required for work place and immigration purposes. The Listening and Speaking tests are the same for both categories, but the Reading and Writing tests will differ.
If you like to get the right guidance to prepare for IELTS examination or with your university admission process, you can seek advice from our experienced counsellors. They can help you identify the best course and university that match your academic profile. Apart from IELTS, there are various other English language assessments such as PTE and TOEFL which are recognized by universities in Australia.

Get All Your Concerns Addressed
Interact With Our Expert Student Councellors Today