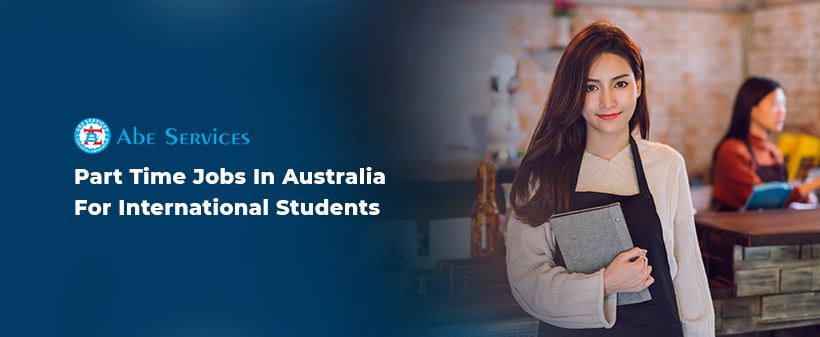 Part Time Jobs in Australia for International Students
The eligibility to work part time during the academic period is one of the major benefits of studying in Australia. If you have a student visa, you are eligible to work for up to 40 hours in a fortnight during the course and full time during scheduled course breaks. If you are a Masters by research or PhD student, you are eligible to work full time.
International students pursuing their graduate or postgraduate education in Australia can find plenty of part time job opportunities spanning across diverse fields like retail, hospitality, business or administration services etc. Students can choose between on-campus and off-campus work opportunities during their academic period in the country.
Here is a list of 7 popular part-time jobs you can consider while studying in Australia.
Retail Sales assistant
Waiter
Receptionist
University assistant
Aged care worker
Bartender
Dishwasher
Retail Sales Assistant
The retail sector in Australia offers plenty of part-time job opportunities. Students can work as retail assistants in a variety of retail establishments, including food, clothing, beauty, home wares, hardware, department stores etc. The retail sector is especially excellent to work in if you like interacting with people. Students who work in this industry can learn crucial skills like customer service and teamwork.
Usually this role demands the students to have a responsive behaviour towards the customers by addressing their concerns or queries. Retail assistants are also responsible for the overall maintenance of the store.
Waiter
A part-time job as a waiter or as a food and beverage attendant can be a good choice for students as the hospitality sector in Australia has a growing demand for staff members. As a waiter you can work in restaurants, hotels, clubs, cafes or other food outlets. The responsibility of a waiter may include greeting the customers and introducing them to the menu, taking orders, serving food & drinks and collecting the payment.
Receptionist
International students in Australia can find a part-time job as a receptionist or of a front office executive very easily since it is not mandatory to have a degree or an equivalent qualification for the same.
The position of a receptionist is available in almost all types of business establishments including hotels, hospitals, corporate firms, private organizations, etc. Below are some of the key qualities required to excel at this job:-
Multitasking skills
Good communication skills
Customer service skills
Polite and courteous attitude
Virtual communication skills
Computer knowledge
Email & Photocopy knowledge
Receptionists arrange reservations, accommodation and also handle the overall maintenance of the reception area in a business establishment.
Student Assistant
Part-time work opportunities in universities are very popular among the students. If you have a dynamic personality with an excellent academic record, you stand a high chance of getting hired as a student assistant. English speaking skills and the ability to guide students will be an added advantage for this job.
Educational requirements for a job as a student assistant may vary but it is usually mandatory for a student to be actively enrolled in a college while applying for this job. A student assistant will be assigned administrative and technical tasks requested by a supervisor. This job profile may also include interaction with students to address their concerns and take care of new admissions.
Aged care worker
Owing to the growing aged population, there is a high demand for aged care workers in Australia. Working professionals are increasingly looking out for aged care workers to take care of their elderly family members. Students can choose to work part time in an aged care home or choose to assist elderly people who need support for daily activities. This job role offers a great degree of job satisfaction as it gives an opportunity to bring a difference in the lives of many aged people. Students who choose to work as aged care workers should have a compassionate and caring attitude towards their clients so as to provide both physical and mental support to them.
Bartender
Bartender is another popular part-time job opportunity which is easily available in Australia. They mix alcoholic drinks and serve them to the customers. Bartenders work at restaurants, bars, clubs, hotels, catering events and other food service establishments.
This work doesn't demand any formal education and most of the skills can be learnt on the job. However a bartender should ideally possess good communication and customer service skills.
Condition: In Australia, bartenders who serve alcoholic beverages should be at least 18 years and should know the state and local laws regarding the sale of especially alcoholic beverages.
Dishwasher
In Australia you can find part-time work opportunities as a Dishwasher in restaurants and hotels. Most of the restaurants in Australia make use of automatic dishwashing machines. The dishwashers are usually required to unload the dishes and cutlery brought to you by bussers. They will also have to load them into dish trays that are then washed in hot water. Some of the utensils like large pots and pans can't be accommodated in these machines hence they should be washed by hand.
Working conditions for Australian student visa holders
Ensure that your student visa permits you to work in Australia. If not, you have to apply for permission to work.
International students on a student visa are entitled to work for a total period of 40 hours per fortnight during their course period. There is no limit on the number of working hours during semester breaks or summer holidays.
It is mandatory for an international student to have an Australian bank account so that his/her employer can deposit money if he/she chooses to work. It is recommended that you set up your Australian bank account before your arrival as this will let you access your money easily and quickly.
Any international student working part-time in Australia should pay their taxes on their respective earnings and file a tax return. All international students planning to work part-time should apply for a Tax File Number (TFN) online via Australian Taxation Office website or by paper. Also note that the employer will provide the students with a tax slip that clearly states their income, bonuses, tax paid etc. before they file the tax returns.
Students who wish to work part-time should be enrolled in a course that is legally approved by the Australian Government.
International students should also obtain the overseas student health cover (OSHC) and maintain the same throughout their stay in Australia.
Before you set out on a job hunt in Australia, prepare a suitable resume that demonstrates your skills, interests, previous work experience not to mention, your educational qualification can also be an added advantage.
Apart from covering the living expenses in Australia, part-time jobs enable students to experience and accept new and diverse cultures as well as improve their English-speaking skills. Work opportunities also expose students to a wide network of people and enrich their living experience in the country.

Get All Your Concerns Addressed
Interact With Our Expert Student Councellors Today